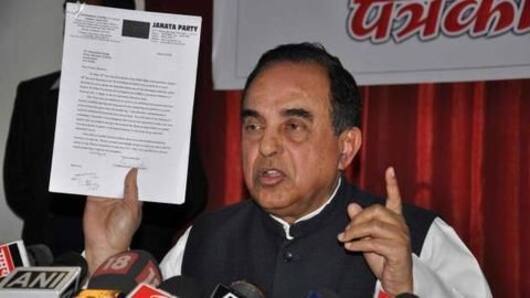 I-T department fined Young Indian in National Herald case
BJP leader Subramanian Swamy told a Delhi court today that the I-T department had imposed a fine of Rs. 414 crore on Young Indian Pvt. Ltd. in connection to the National Herald case filed by him against Sonia Gandhi, Rahul Gandhi, and others.
He also told the metropolitan magistrate that the I-T department had launched a probe against the Gandhis, Young Indian, and others.
Documents submitted by Swamy cannot be taken on record
Swamy claimed that he found documents related to the I-T department's order dated 27th December 2017 lying at his doorstep with newspapers.
The counsel for the accused opposed Swamy's submission of documents stating that the I-T documents were in "unauthorised and unlawful possession of Swamy" and thus couldn't be taken on record.
The magistrate directed the documents to be kept in a sealed cover.
Origins of the National Herald case
In 2008, the Congress gave a Rs. 90.25 crore loan to Associate Journals Limited (AJL), the owner of the newspaper The National Herald.
The loan allegedly wasn't repaid and/or paid in cash, which is in violation with certain sections of the Income Tax Act.
In 2010, the Congress, declaring AJL to have negative worth, transferred recovery right of the loan to a privately-owned company.
Love India news?
Stay updated with the latest happenings.
Yes, notify me
How Young Indian acquired Associate Journals Limited
In November 2010, Young Indian Pvt. Ltd., owned by the accused, was incorporated with a share capital of Rs. 5 lakh.
The Congress then transferred the loan rights to Young Indian for a sum of Rs. 50 lakh.
In December 2010, Young Indian acquired a large chunk of AJL shares in lieu of the outstanding loan.
Alleged worth of Associate Journals Limited
Associate Journals Limited (AJL), owns prime real estate in several cities and even by a conservative estimate, has a total worth of around Rs. 5,000 crore.
Swamy files a case against the Gandhis
In November 2012, Swamy had accused the Gandhis and others of conspiring to cheat and misappropriate funds by acquiring the right to recover the Rs. 90.25 crore loan from AJL by paying just Rs. 50 lakh.
The Gandhis and the other accused - senior Congress leaders Motilal Vora, Oscar Fernandes, Suman Dubey, and Sam Pitroda - all denied the allegations against them.
A summary of the case's history
In 2015, the trial court said that Young Indian appeared to be a "sham...to convert public money to personal use".
It allowed Swamy's plea to examine the books of the INC, AJL, and Young Indian between 2010 and 2013.
However, the trial court's directive was overturned by the Delhi High Court.
The next hearing, after Swamy's new claim, is scheduled for March 27.