#DecodingBudget: Announcements for Digital India made by FinMin Jaitley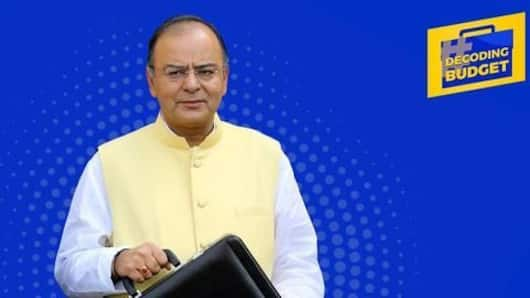 Finance Minister Arun Jaitley has presented the much-awaited Budget for 2018-19. While it's largely focused on agriculture, rural development, and healthcare, Jaitley also made key announcements for Digital India, giving a push to usage and development of technology.
From doubling the allocation to Digital India to installing Wi-Fi hotspots to working on 5G technology to using BlockChain technology to cryptocurrencies, here are some announcements.
In context
Key announcements for Digital India in Budget 2018
Digital India
Funds allocated to Digital India initiative doubled
Finance Minister Arun Jaitley has announced that they have decided to double the funds allocated to Digital India initiative to Rs. 3,073cr in 2018-19.
He said with Digital India scheme, the government is focusing on bringing a digital transformation to reshape and empower the country by leveraging technology.
The Centre will focus on emerging technologies like machine learning, Artificial Intelligence, Internet of Things, etc.
NITI Aayog's AI program
Jaitley said that the government's think-tank, NITI (National Institution for Transforming India) Aayog, would soon launch a national program as part of the efforts for focusing on the research and development of Artificial Intelligence and its applications.
Love India news?
Stay updated with the latest happenings.
Notify Me
Wi-Fi Hotspots
Centre to spend Rs. 10,000cr on 5 lakh Wi-Fi hotspots
Arun Jaitley announced the government would deploy 5,00,000 Wi-Fi hotspots in rural areas to provide Internet access to over five crore people at Rs. 10,000cr under BharatNet initiative.
The government's BharatNet project aims to provide Internet connectivity to all Gram Panchayats, thereby covering almost all rural/remote areas.
As of 31 Dec'17, over 1,00,000 Gram Panchayats were connected to the optic fiber under BharatNet Phase-I.
Department of Science's "Mission Cyber Space"
Finance Minister Arun Jaitley also announced that the Department of Science would soon launch a "National Program for Cyber Space". This program is expected to explore Artificial Intelligence, Big Data, Robotics, etc. and their use in the country.
5G Technology
5G testbed to be set up at IIT, Madras
Jaitley said the Department of Telecommunication would soon set up a test bed for 5th generation mobile networks (5G) at the IIT in Chennai.
The DoT would work in partnership with IIT Madras on enabling standards and devices required for introducing and using 5G technologies.
The government wants to ensure that India doesn't fall behind other countries in rolling out 5G services by 2020.
What about the status of cryptocurrencies?
The Finance Minister has reiterated that the government will not consider cryptocurrencies or virtual currencies, such as Bitcoins, as legal tender. Jaitley said the government is also working on intensifying the crackdown on cryptocurrency to stop its circulation and transactions through such digital assets.
Blockchain Technology
Government to explore usage of Blockchain technology
While Jaitley said the government would eliminate cryptocurrencies, he did announce that they will explore the use of Blockchain - the technology behind Bitcoin and other virtual currencies.
Blockchain is a continuously growing public ledger of records/transactions linked and secured using cryptography and cannot be modified.
It was earlier limited to cryptocurrency transactions, but it's now used in banking, supply chain, healthcare, agritech, etc. Most asked questions
Government always talks about Digital India, but why is the budget not in digital format and instead read out?
What is BharatNet Project?
Government always talks about Digital India, but why is the budget not in digital format and instead read out?
Asked on 01-02-2018 by Armaan Pandit
Answered by NewsBytes
As of now, the Government of India is not thinking to present Budget in a digital format. It might be due to security reasons. So budget is printed on white paper with black ink for visual clarity.

What is BharatNet Project?
Asked on 01-02-2018 by Anonymous
Answered by NewsBytes
BharatNet project aims to to provide high-speed broadband internet to all panchayats by March 2019. With this project, the government will connect 1.5 lakh panchayats through 10 lakh kilometres of optical fibre. In his budget speech, FM Jaitley announced that under phase 1, one lakh gram panchayats have already been connected.