#DecodingBudget: Jaitley announces new GOBAR Dhan scheme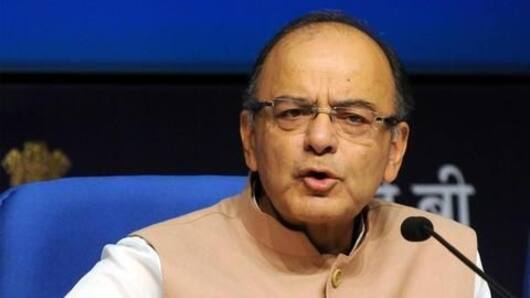 While presenting the budget in the Lok Sabha, Finance Minister Arun Jaitley announced a new scheme called GOBAR Dhan for solid waste management, among other agricultural reforms.
In addition to the Swachh Bharat Mission's goal of constructing two crore additional toilets in rural India, Jaitley said that GOBAR Dhan would increase farmers' incomes and help make India open defecation-free.
Here's more on the scheme.
In context
Budget 2018: GOBAR Dhan, agricultural reforms and more
Budget is focused on improving rural economy, says Jaitley
"We have taken up programmes to direct the benefits of structural reforms and good growth to reach the farmers, poor and other vulnerable sections of the society and uplift the underdeveloped regions. This year's budget will...particularly focus on strengthening agriculture and rural economy," said Jaitley.
GOBAR Dhan
What do we know of the GOBAR Dhan scheme
The Galvanizing Organic Bio-Agro Resources (GOBAR) Dhan scheme is aimed at helping farmers manage and reuse cattle dung.
Jaitley said that under the scheme, farmers would be taught solid waste management and how to reuse solid waste as compost, fertilizer, bio-gas, and bio-CNG.
Commenting on the scheme, PM Modi said that GOBAR Dhan would "keep villages clean and increase the income of the farmers".
Love India news?
Stay updated with the latest happenings.
Notify Me
Agriculture sector
Higher minimum support price, liberalization of exports on the agenda
Jaitley also promised farmers that the minimum support price for kharif crops would be made 1.5 times the production price.
Proposing a Rs. 500 crore allocation for "Operation Green" to improve production of potatoes, onions, and tomatoes, Jaitley said that liberalizing farm commodity export was also on the agenda.
The Finance Minister also proposed allocating Rs. 2,000 crore for agri-market development.
India has a massive agricultural export potential
Liberalizing farm commodity export might reap large monetary benefits for India. India has an agricultural export potential of around $100 billion, but so far, only around $30 billion has been realized.
Other reforms
The government is looking to improve rural India
The government is also looking to improve health and wellness in several major panchayats across the country, improve infrastructure for rural business centres as well as bolster connectivity between villages and centres of higher education.
The government said that it had identified 115 aspirational districts where it would invest in health, education, rural electrification, access to drinking water etc. "in a time bound manner".