Gurugram: Pregnant-woman not carrying Aadhaar forced to deliver outside hospital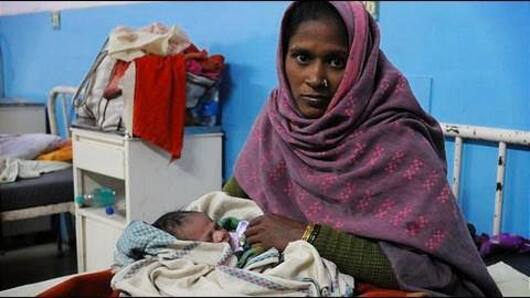 In yet another case of medical apathy, a 25-year-old pregnant woman in Gurugram was forced to deliver a baby girl outside the Civil Hospital near the parking lot without any medical support as she wasn't carrying her Aadhaar card.
Though she furnished her Aadhaar number, the woman was denied an ultrasound-test before the delivery as she didn't have an Aadhaar copy.
Here's more.
In context
Gurugram: Doctors deny entry to pregnant-woman over Aadhaar
Woman had to stand at gate for two hours
The woman, Munni, had to stand outside the emergency ward gate in pain for at least two hours before delivering the baby as she was denied entry. Her husband Bablu claimed, "I was left helpless as my wife was screaming and shouting in pain."
Details
Denied admission for ultrasound test, delaying delivery
Bablu, a daily-wage laborer, said Munni had her Aadhaar number and Voter-ID card, but the hospital insisted on an Aadhaar copy mandatory for ultrasound tests.
He said they reached the hospital and a gynecology-ward doctor asked for an ultrasound report.
As she didn't get any pregnancy-related tests before, a staff nurse sent her to get an ultrasound test done where she was denied entry.
Love India news?
Stay updated with the latest happenings.
Notify Me
People Enraged
Mother, child admitted to gynecology ward after others intervened
Meanwhile, others present at the hospital, who witnessed the incident, raised their voice against the administration following which the staff acted quickly, said Bablu.
The hospital later confirmed that both the mother and the baby girl are healthy and are currently in the gynecology ward.
Gurugram Chief Medical Officer Dr. BK Rajoura said, "What has happened is unfortunate and should not have happened."
Suspension
Doctor and staff nurse have been suspended
Civil Hospital's Principal Medical Officer, Dr. Pradeep Sharma stated: "The woman reached the hospital with full labor pain. She was asked for her Aadhaar card for ultrasound and thus her delivery process got delayed."
"We have found the doctor and the staff nurse responsible. We have suspended them and conducting a probe into the matter," he added, blaming the gynecology-ward doctor and nurse.