Srinagar encounter: Operation ends with death of two terrorists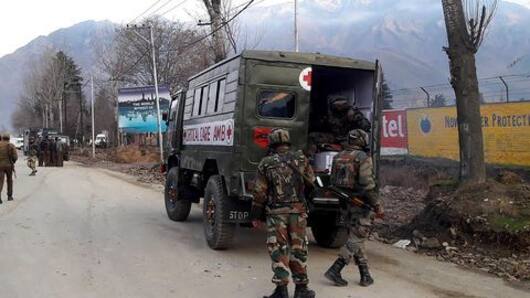 Two terrorists holed up near a CRPF base in Srinagar were killed this morning by Indian security forces. The operation has now ended.
This is the second attack in the area within a week, following the attack on the premier SMHS hospital where a terrorist escaped from police custody under gunfire cover from terrorists.
This also follows the Sunjuwan base attack.
Here's more.
In context
Operation comes to an end in Srinagar encounter
Details
One CRPF constable was killed in the encounter
The gunbattle with security forces began early Monday morning after terrorists failed in their attempt to infiltrate a CRPF base in the Karan Nagar area in Srinagar.
Yesterday's firing resulted in the death of CRPF constable Mujahid Alam and exchange of fire from both sides continued intermittently throughout the night.
Restrictions on movement of civilians and vehicles were imposed in old Srinagar.
Reactions
Pakistan "will pay", warns Defense Minister Nirmala Sitharaman
Reacting to the series of attacks, Defense Minister Nirmala Sitharaman said on Monday that Pakistan "will pay for this misadventure".
Meanwhile Jammu & Kashmir Deputy Chief Minister Nirmal Singh said that "all infiltrators are basically Pakistani" and Pakistan was "pushing terrorists this side out of desperation".
Kashmir IGP SP confirmed that the two dead terrorists belonged to the Lashkar-e-Taiba outfit.