Valentine's Day wars: India devises creative ways to 'celebrate'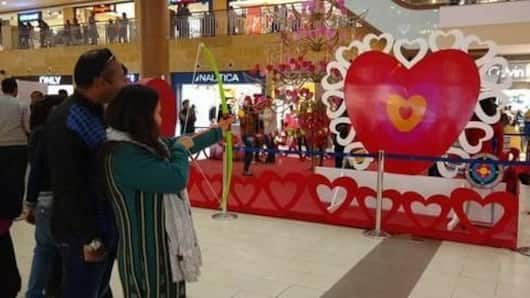 While the rest of India celebrates love on Valentine's Day, it is common for right-wing groups to use this day to harass couples and unleash violence.
But this time, protests were bizarre. To show objection, a group in Chennai married off a dog and a donkey.
A Bengaluru group also married off two animals, but to show support.
India witnessed bizarre scenes today.
In context
How India celebrated Valentine's Day, or didn't
Animals
Pro- and anti-Valentine's Day groups get animals 'married'
The Bharat Hindu Front in Chennai solemnized the "marriage" of a dog and a donkey to protest Valentine's Day.
In Bengaluru, the Karnataka Rakshana Vedike had a similar idea, but with a contrary goal: they married off two sheep in favor of Valentine's Day celebrations.
A member, Vatal Nagaraj, said the government "should give Rs. 50,000-1L to any couple who marry for love."
Lucknow University simply shuts its gates to keep students out
To prevent students from celebrating Valentine's Day, Lucknow University decided to shut down for the day citing 'Maha Shivratri.' Students were forbidden from entering the premises and gates were shut with huge locks. Last year, it had banned gifts and flowers on campus.
Love India news?
Stay updated with the latest happenings.
Notify Me
Rituals
'Lathi Puja' in UP, 'quick and easy' marriages in Delhi
In Muzaffarnagar, the Shiv Sena is conducting 'Lathi Puja' today: they believe in using sticks to 'teach a lesson' to couples seen in public.
In Delhi and UP, the Akhil Bharatiya Hindu Mahasabha decided to clamp down on this day of 'love jihad'. Workers will allegedly convert any inter-faith couple to Hinduism and get them married "quick and easy", according to Hindu rituals.
At 6pm, Mumbai will shout 'Pyaar ek dhoka hai'
In Mumbai, comedy collective All India Bakchod is holding the peculiar 'Shouting Pyaar Ek Dhoka Hai' event. They have released a series of slogans for the program, like 'Azaad hain, azaad rahenge, single hai, single rahenge.'
Protest
Increased security in many places amid threats from right-wing groups
Other right-wing groups did their usual. In Ahmedabad, the Bajrang Dal chased away couples from the Sabarmati Riverfront with sticks and 'Jai Shri Ram' slogans.
Groups like the Sakthi Sena Hindu Makkal Iyakkam and Bharat Sena, Tamil Hindu outfits, urged authorities to not allow couples to be seen outside.
Amid such threats, security is high in many places.
India sure knows how to 'celebrate.'
Do not forget your Aadhaar card!
This Valentine's day take time to celebrate the connection between the one you love, yourself, and your adhaar card. It's mandatory.

— Vir Das (@thevirdas) February 14, 2018