Martyr's family rejects Bihar govt's "demeaning" compensation of Rs. 5L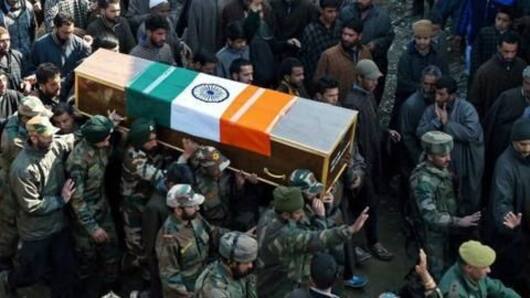 The family of a martyred CRPF jawan from Bhojpur have refused the Bihar government's cheque of Rs. 5L, terming it "demeaning."
"They are of the view that when army personnel killed in such incidents are given Rs. 11L," the amount given to them was substantially lower, said District Magistrate Sanjiv Kumar.
Jawan Mujahid Khan was killed in an encounter in Srinagar earlier this week.
In context
Martyr's family rejects "demeaning" Rs. 5L cheque
Encounter
Two terrorists neutralized in the gunfight that killed Khan
The gunfight broke out Monday morning after a CRPF constable noticed two men in army fatigues approaching the paramilitary camp in Srinagar's Karan Nagar.
He warned them, but they didn't stop. Then the guard opened fire.
The LeT terrorists ran into a nearby building, took up positions and started firing.
Five families of CRPF personnel and some civilians were rescued.
Both terrorists were killed.
Funeral
Absence of ministers, govt officials at funeral triggers spat
Khan's body was brought to his home in Piro tehsil and a funeral held with full police honors.
Locals were reportedly upset about the absence of any minister or government official at the funeral.
The issue turned into a political fight, with RJD vice-president Shivanand Tiwary demanding an apology from the Nitish Kumar government for the "insensitivity shown towards the sacrifice of the jawan."
Love India news?
Stay updated with the latest happenings.
Notify Me
Family
'My brother didn't die consuming liquor': Family protests compensation amount
Mujahid's brother Imtiaz Ahmad meanwhile said, "My brother sacrificed his life for the country and see how he is being treated. Has he died consuming liquor?"
Officials have now written to the home department regarding his family's complaint.
"The amount of ex gratia is decided by the department and only upon its approval can any change be affected," District Magistrate Kumar said.