India
Delhi govt organizes two-day job fair to fill 15,000 vacancies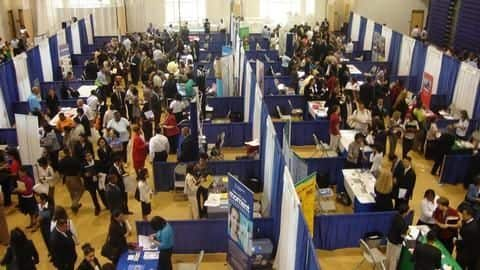 A two-day job fair organized by the Delhi government started today at the Tyagraj Stadium.
According to an official statement, over 15,230 positions are available.
The fair will run during 11am-5pm.
Reputed brands like Bajaj Capital, Eureka Forbes and LIC are participating.
Interested candidates need to register themselves for the fair.
Here's all you need to know.
In context:
Delhi government organizes two-day job fair
15 Feb 2018

Delhi govt organizes two-day job fair to fill 15,000 vacancies
Registration

You can register yourself here
To register yourself, visit the official website, head to 'Jobseekers' tab and click on 'Registration.'
Enter the information asked for, including name, contact details, academic history and previous work experience.
Before submitting, ensure there are no errors.
Once you have applied, take a note of your registration ID.
You can find the full list of participating employers here.
Love India news?


Stay updated with the latest happenings.
Vacancies

You can apply for interested vacancies beforehand
You can also find the list of vacancies here. If you are interested in an opportunity, click on 'Apply now.'
You will have to submit your registration ID. Once you verify your mobile number with OTP, your details will be sent to the employer.
Please ensure that you fulfill criteria posted by the employer before applying for any vacancy.
The employer will shortlist candidates based on requirements.
At the last fair, over 8,200 people have received offers

Last year, a job fair was held in November. Over 8,200 candidates had received on-the-spot offer letters while another 28,787 had been shortlisted. Eighty-two companies had participated in the fair.