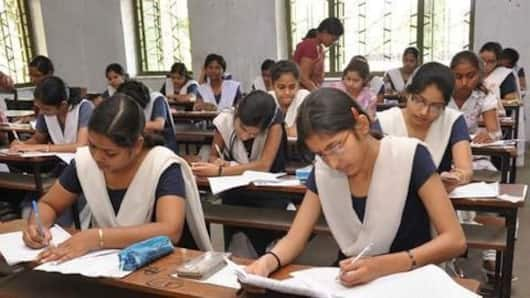 'Wear flip-flops': Bihar Board's direction to students to check cheating
Days after expelling over 1,000 Class 12 students for cheating in the Bihar Board Intermediate Examinations, the state School Examination Board (BSEB) has now passed new directions for Class 10 students.
The Board wants them to appear their exams while wearing flip-flops, not shoes with socks.
The Class 10 exams are scheduled to begin from February 21.
BSEB hit by embarrassing frauds in the last two years
The BSEB has been hit by bizarre frauds in recent years. 2016 Arts 'topper' Ruby Rai had no idea about the subjects being taught; in a TV interview, she said political science taught them cooking.
Despite scoring high in music, 2017 Arts 'topper' Ganesh Kumar, 24, seemed to have no knowledge of 'sur' and 'taal.'
He later turned out to be 42-years-old.
After stricter checking, Class 12 pass percentage dropped to 35.25%
BSEB adopted stricter measures last time, and there were results. Compared to the 67.66% that cleared the Class 12 exams in 2016, only 35.25% passed in 2017.
For the first time, answer-sheets were embedded with barcodes. CCTVs were also installed in all exam centers.
Physical verification of Class 10 toppers was conducted. BSEB flew them in and quizzed them on subjects before declaring results.
Love India news?
Stay updated with the latest happenings.
Yes, notify Me
Education minister explains rationale behind banning shoes
Continuing its clampdown, BSEB expelled 1,000 students of Class 12 this time for "adopting unfair means."
25 fake examiners were also caught, and FIRs lodged against guardians helping their wards cheat.
Education Minister KN Verma explained students had been asked to wear flip-flops to save time.
"It is time-consuming to make students take off their socks and shoes to conduct a check," he said.
Over 17L students appearing for Class 10 exams this time
About 17.7L students are appearing for the Class 10 exams this year. The test is being conducted at 1,426 exam centers across the state from February 21 to February 28.