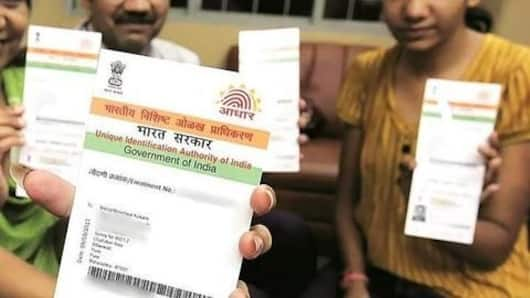 How safe and secure is Aadhaar? All myths busted
Aadhaar is gradually becoming an essential document for Indians, but awareness of related issues remains low.
A number of myths are in circulation, questioning the safety and security of Aadhaar.
But can the government actually use it to snoop on people, as many fear? Or can someone who knows your Aadhaar number access your bank account?
Here we break some common myths around Aadhaar.
Govt using Aadhaar to snoop on people, intrude privacy
Under Section 32(3) of the Aadhaar Act, 2016, the UIDAI isn't permitted to store any detail of Aadhaar holders apart from biometric and demographic details.
Though linking mobile numbers to Aadhaar is mandatory, neither the UIDAI nor telcos are authorized to store or request additional data.
In cases like these, individuals can approach the government and request action.
Myth 2: Govt has mandated Aadhaar-bank linking as it suspects everyone
The government's aim behind linking bank accounts to Aadhaar is eradicating black money, since doing so would cut down the chance of people opening accounts under fake names. After a fixed deadline, accounts not linked to Aadhaar will be deactivated, but all others can continue smoothly.
Love India news?
Stay updated with the latest happenings.
Yes, notify me
Banks, telcos are storing and sharing private data
There are rumors banks are sending people's account details like statements, balance and transactions to UIDAI, but neither is the UIDAI authorized to ask for such information, nor are banks allowed to share it.
Telcos don't have the permission to store biometrics of subscribers and other details either. They have to directly transfer users' information to UIDAI during mobile re-verification.
Myth 4: Even NRIs/PIOs/OCIs need to link Aadhaar to schemes
Linking different schemes to Aadhaar is mandatory for all residents of India. However, some categories of Indians, including NRIs (Non-Resident Indians), OCIs (Overseas Citizen of India) and PIOs (Persons of Indian Origin) are exempt from related laws since they aren't eligible for Aadhaar.
Aadhaar card is necessary to prove identity, access govt benefits
Under Section 7 of the Aadhaar Act, no one can be denied government benefits if they don't have Aadhaar.
In such cases, complaints can be lodged against the higher authorities of the department.
Moreover, e-Aadhaar is a valid proof of identity, and no agency can deny it.
Since it contains updated address and other details, it is preferable than the physical Aadhaar card.
Myth 6: Bank account can be hacked with Aadhaar number
No bank details are stored with UIDAI except account number. To access even that, one will have to prove their identity with a one-time password that's sent on the account holder's registered mobile number, so one will also need to have the phone with them.
If I already have a single bank account and not more than 1,00,000 rupees then why do I need to link Aadhar with bank account?
Asked 2018-02-21 09:12:53 by Rajdeep Kumar
Answered by NewsBytes
The government has made linking of Aadhaar with bank accounts mandatory, irrespective of the number of accounts you have. By linking Aadhaar, you can avail several benefits including subsidies, scholarships etc. Moving forward, all the government sponsored schemes, will require this linkage.