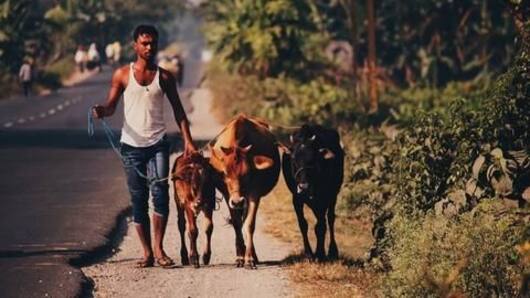 Rajasthan proposes stricter laws to check cow smuggling
Clamping down on illegal cow slaughter, Rajasthan has ruled that vehicles used in unauthorized transportation of bovines will be seized and the accused arrested.
However, it won't apply to transportation of buffaloes.
The government approved an amendment in the Rajasthan Bovine Animal (Prohibition of slaughter and Regulation of Temporary Migration or Export) Act for the same.
The bill will now go to the assembly.
Cow smuggling a thriving industry in Rajasthan
Cow smuggling is a major industry in Rajasthan. In the last three years, 1,113 cases have been registered and 2,198 smugglers arrested, according to the government.
Of the 1,113 cases, challans were issued in 931 cases, FIRs filed in 122, and investigation is on in another 60.
In the same period, 16,428 cows were rescued and 1,051 vehicles impounded by police.
Cows from Rajasthan are smuggled to as far as Bangladesh
Alwar and Bharatpur are the hotbeds of cattle smuggling. Apart from neighboring states, the animals are sent as far as West Bengal, from where there're smuggled into Bangladesh.
Bovines that have stopped giving milk sell for Rs. 5,000, while those for slaughter fetch up to Rs. 25,000.
Till now, the Rajasthan Bovine Act didn't allow for confiscation of vehicles involved in smuggling.
Love India news?
Stay updated with the latest happenings.
Yes, notify me
What does the new law entail?
After the amendment in laws, "vehicles used in illegal transport of animals will be seized similar to the action taken under the Excise Act," said Parliamentary Affairs Minister Rajendra Rathore.
"Also, appropriate authority will be able to arrest offenders after amendment in the Act."
But buffaloes have been excluded from its provisions on the directions of the Center, he added.
Cow smuggling in Alwar, Bharatpur sees a dip: Government
The government said cow smuggling in Alwar and Bharatpur had seen a significant decline after setting up of special outposts in the regions.
There is a proposal to depute two SPs in Alwar, where the general crime rate is high.
The government would take a decision on it depending on the available budget and resources, Home Minister Gulab Chand Kataria said.