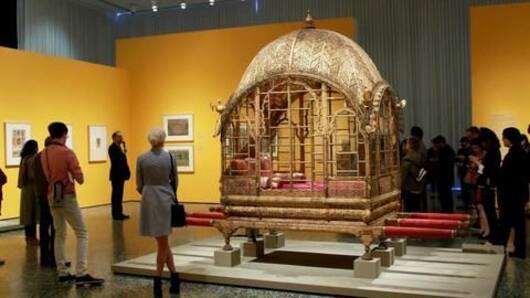 Royal arts from Jodhpur on display at Houston museum
A treasure trove from India's Rathore dynasty in Rajasthan, which includes exquisitely crafted arms and armor, jewels, and intricately carved furnishings amassed over the centuries, was put on display at an exhibition in Houston.
The exhibition titled "Peacock in the Desert: The Royal Arts of Jodhpur, India" is organized by the Museum of Fine Arts, Houston (MFAH).
Here's more.
Exhibition outlines dynamic history of Marwar-Jodhpur region, Rathore dynasty
The exhibition was organized with the help of the Mehrangarh Museum Trust of Jodhpur and will be open to the public until 12 August.
Through lavishly made ceremonial objects, finely crafted arms and armor, sumptuous jewels, intricately carved furnishings and more, the exhibition outlines the dynamic history of the Marwar-Jodhpur region and the Rathore dynasty that ruled it for over seven centuries.
Art objects put on display across five galleries
Most of the 300 exquisitely detailed objects have never left India before.
Many are signature possessions of Mehrangarh Museum Trust, established in the early 1970s by His Highness GajSingh II, the current Maharaja of Marwar-Jodhpur, to protect the treasures from the 17th to the early-20th centuries.
Grand paintings, jewelry, weapons, devotional objects, room settings, and vehicles are arrayed across five galleries of the museum.
Love India news?
Stay updated with the latest happenings.
Yes, notify Me
It's for the first time these treasures left Indian repository
Drawn primarily from the collections of the Mehrangarh Museum Trust and the private collections of the royal family of Jodhpur, the exhibition gives a rare peek into the riches of the maharajas and maharanis of the Rathore Dynasty.
It is the first time these treasures have left their repository in India, a palace dating to 1459, now preserved by the Mehrangarh Museum Trust.
An opportunity to connect children to their heritage
The US tour was made possible by the Mehrangarh Museum Trust.
The treasures will also be exhibited in Seattle and Toronto.
"This is an opportunity to connect your children and grandchildren to their heritage," Consul General of India Anupam Ray told Indian Americans.
"There is no better way of engaging them to what is good, exciting and magical in India's heritage," Ray added.
What did the MFAH director say about the exhibition?
Gary Tinterow, Museum of Fine Arts, Houston (MFAH) Director said, "We are deeply honored and grateful to be the first US organization to present this show and for the opportunity to provide visitors this unprecedented experience of India's rich cultural history."