India
New norm: Bigger pictorial warnings on tobacco products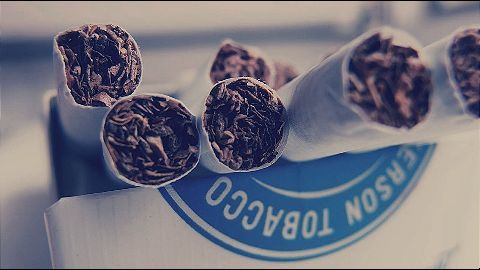 All tobacco products manufactured from 1 April 2016 shall carry pictorial health warnings on 85% packaging on both sides, according to a new norm issued by Union Health Ministry.
After a year's delay, and despite oppositions by tobacco industry and a parliamentary-panel, the new rule has finally come into force.
Earlier, tobacco products had health warnings only on 40% of their packaging (on one-side).
In context:
New rule to warn smokers
2013

PIL seeking tobacco ban filed in Rajasthan HC
In July 2013, Rajasthan Jan Morcha, an NGO, had filed a PIL seeking uniform ban on all tobacco products including cigarettes, gutka, beedis.
The petition stated that despite a prohibition of gutka in Rajasthan, tobacco consumption via cigarettes and beedis was rampant in the state.
Rajasthan HC's division bench gave the State and Union health secretaries a two-week notice to file a written response.
29 Sep 2015

Bigger pictorial warnings on packaging from April'16: Centre
On 9 Sep'15, Rajasthan HC had warned Centre to implement bigger pictorial warnings on tobacco packaging by 29 Sep'15.
But, the Union Health Ministry sought six months time as the manufacturers of the tobacco products needed to adjust their products' packaging.
The ministry had stated that 85% of the tobacco products' packaging shall carry pictorial health warnings with effect from 1 April 2016.
Love India news?


Stay updated with the latest happenings.
11 Mar 2016

Parliamentary panel seeks smaller health warnings
The parliamentary panel reviewing the warnings on tobacco products questioned the Union Health Ministry in Jan'16 whether bigger warnings can reduce tobacco consumption.
As the implementation date of the new rule was approaching, the panel opposed the Ministry's decision, calling it 'too harsh' for the tobacco industry.
To have a balanced approach, the committee suggested that only 50% of the packaging should occupy health warnings.
15 Mar 2016

Cigarette industry opposes 50% pictorial health warnings
Tobacco Institute of India (TII) called the parliamentary panel's recommendation to print pictorial warnings on 50% of the packaging as 'excessive'.
It stated that 50% on both the sides of a packet would have an adverse effect on the tobacco farmers and industry.
It added that even the largest tobacco-consuming countries have only 30% text-based warnings on the packaging and not large pictorial warnings.
Existing tobacco packaging rules ineffective

According to the Cigarettes and Other Tobacco Products Rules, 2008, it was mandatory that 40% of a tobacco product's packaging surface be covered with health warnings. The remaining 160% of the packaging area could be used for brand promotion or advertisement.
23 Mar 2016

India must implement larger health warnings: WHO
The World Health Organization had stated that India must implement more strict rules on larger health warnings on tobacco product packets.
The statement came only a few days after a parliamentary panel demanded reduction in the proposed warning-size on the packaging to support the tobacco industry.
Henk Bekedam, WHO-India representative, said that reducing the size of health-warnings in India would be a great setback.
Love India news?


Stay updated with the latest happenings.
1 Apr 2016

New norm: Bigger pictorial warnings on tobacco products
2 Apr 2016

Big cigarette makers threaten to stop manufacturing
Protesting over the call for bigger pictorial warnings (covering 85% of the cigarette package), major cigarette manufacturers like Godfrey Philips, ITC and VST have joined hands against the order.
They will protest by shutting all their factories and stop manufacturing with effect from Friday.
It is believed that this will mean a production revenue loss of Rs.350 crore/day for the tobacco product manufacturers.
17 Apr 2016

ITC to resume cigarette production
ITC said that it will resume manufacturing of cigarettes 'consequent upon a high court order passed in favour of the company.'
The move comes 2 weeks after the company shut its factories over stringent new rules imposed by the government.
There were no details on the court order, nor was there any clarity on whether it would print larger health warnings on its packets.
4 May 2016

SC: Bigger warnings on cigarette packets to prevail
The Supreme Court in its order told the cigarette manufacturers to comply with the new rules requiring bigger health warnings on packets.
The new rules in force since 1 April had sparked tobacco factory shutdowns.
The tobacco industry has taken the government to court, claiming the new directives were too harsh.
The SC transferred all the petitions on this case to Karnataka high court.
31 May 2016

Govt mulls tobacco warning in school books
The health ministry is planning to introduce anti-tobacco warnings as part of essential reading for school students in an attempt to discourage tobacco use among youngsters.
Health Ministry officials said "the idea is to catch them young and create awareness."
The health ministry and the HRD ministry are deliberating the proposal that would use posters, cartoons and lessons on tobacco's health hazards in schools.
1 Jun 2016

WHO calls for plain packaging of tobacco products
The World Health Organisation asked countries to introduce plain packaging without any logos and promotional information.
The have asked to prohibit the use of logos, colours, brand images and promotional information on packaging
They seek to reduce demand for tobacco by "reducing the attractiveness of tobacco products."
Australia, France, United Kingdom and Northern Ireland have already made plain packaging mandatory for tobacco products.