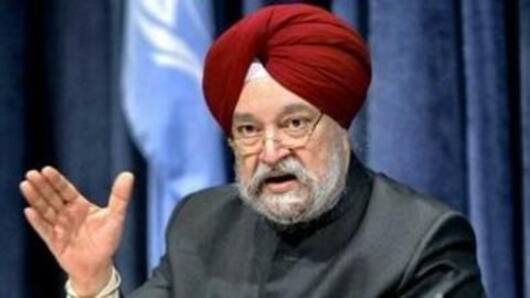 Elderly, students might soon get discounted Delhi Metro fares
In a bid to offset the burden of Delhi Metro's fare hike on students and senior citizens, Union minister Hardeep Singh Puri has asked the body to evolve a mechanism to offer special tariffs to them.
Puri said technology has to be developed to implement the scheme as it would ensure that benefits reach the targeted group and is not misused.
Scheme should not be considered as populist: Puri
Affirming that the new initiative would be within the framework of law, the Housing and Urban Affairs Minister said the scheme should not be considered as "populist".
However, he did not specify any time-frame for implementation of the special tariffs for students and senior citizens.
Currently, Delhi metro does not offer any kinds of discounts for any category of passengers except Smart Card subscribers.
Delhi Metro hiked its fare twice last year
On recommendation of Fare Fixation Committee (FFC), the Delhi Metro Rail Corporation revised its fare twice last year in May and October, which hiked the metro fares by upto 100% across multiple slabs.
On November 24, the DMRC's response to an RTI revealed that metro lost 3 lakh commuters per day following October hike.
This triggered a slugfest between the Kejriwal government and Centre.
Love India news?
Stay updated with the latest happenings.
Yes, notify me
The blame game between center and state govt
Kejriwal said the fare hike was "killing" the metro and pushing commuters away from it.
However, Puri said the fall in ridership could not be solely attributed to the fare hike and factors like an extra Sunday, Diwali and Chhath Puja may also have been responsible.
Puri added that the fare, revised after 8-9yrs, was decided by FFC and was not in his hands.
Why was the the fare hiked?
To repay the loans that Delhi Metro has taken for carrying out its project, the fare hike was the need of the hour, Puri said.
"If you do not increase the fares then what will you do? How will you return the money? If you are not able to repay the loan, will anybody give you money next time you need it?" Puri said.
Long distance travellers increased since October 2017's fare hike
Credits:
An official said that since the last year's fare hike, despite a decline in short-distance travels, there has been an increase in the number of travellers taking long journeys on the Delhi metro.
Puri also suggested a number of ways to increase the revenue of the Delhi Metro, including advertisements and commercial exploitation of the land.