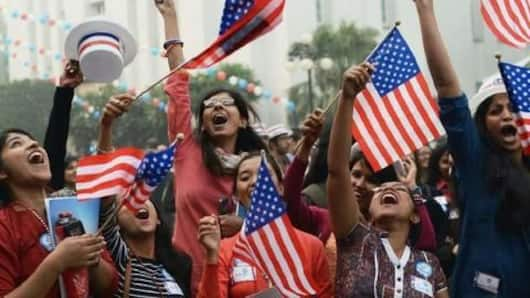 Indians getting US-citizenship fall sharply, but can it be good-news?
The grand "American Dream" is farther for Indians than ever before. During 1995-2000, 1.2L highly-skilled Indians were entering the US each year.
As a result, the number of citizenships granted remained high: in 2008, it was 65,971, the highest in 30 years.
In 2017, it came down to 49,601.
Though it was still an improvement from 2014 (37,854), the overall trend is dampening.
How have things changed for Indians living in the US?
A major factor has been the Trump administration's anti-immigrant stance. In March'17, the US temporarily suspended H-1B visa's premium processing, a facility that helped clear applications in 15 days instead of the usual three-six months.
In April, requirements for H-1B were made more difficult for Indian computer programmers.
In February'18, visa tenure of third-party contract workers was shortened and renewal clauses were made tougher.
Not just work, the education scene's changed too
More such changes have also hit the number of Indians moving to the US for higher studies, which fell by 28% in 2017.
From 65,257 (2016) to 47,302 (2017), Indians suffered the biggest drop.
WSJ blamed it on an executive order signed in 2017, which now requires consular officials to ensure students return to their home countries post course completion.
Love India news?
Stay updated with the latest happenings.
Yes, notify me
Trump not the only factor discouraging migration
However, Trump isn't the only factor; the number of Indians moving to the US had started dropping from before. Other factors like rising living-costs, an uncertain job market, an increasing wave of racism and hate attacks, gun violence and unfriendly climate also weighed in.
Indians send most citizenship applications, so higher waiting time
The number of citizenships granted in 2014 was the lowest in a decade.
"The average time it takes to process a green card has gone up from a couple of years to as much as 7-8. Indians have made more applications than any other country in the world, which means they have a longer waiting period," explained Mark Davies, an immigration lawyer.
A blessing in disguise for the Indian government?
However, what has become bad news for Indians might become a golden opportunity for India, which has been losing top talent to the US.
"If graduates from IITs, NITs and other top institutions work here, it's good for India," an official said.
But for that, quality of education here has to be improved, and more importantly, the workforce has to be absorbed.