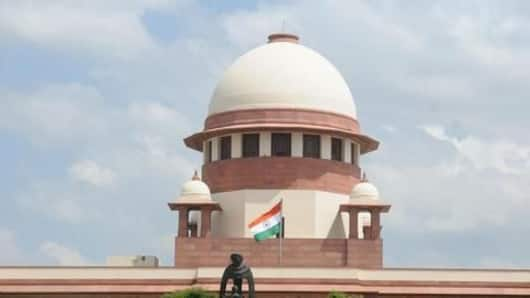 Army-man jailed for 27 years; SC acknowledges wife's justice plea
The Supreme Court has taken note of a woman's plea that her husband, an Army man, has been languishing in jail for 27 years without a final decision on the death penalty awarded by a Court Martial for killing two of his colleagues.
A bench comprising CJI Dipak Misra and Justice AM Khanwilkar took note of the plea by Mithilesh Rai.
Here's more.
Army man was awarded the death penalty in 1991
The court also issued a notice to the Ministry of Defense, the Chief of Army Staff, and others and asked them to respond within four weeks.
Jailed Army man Lance Naik Devendra Nath Rai, 60, whose mental health suffered due to the long incarceration, was awarded the death penalty by the General Court Martial (GCM) in 1991. The Centre had confirmed the noose.
In 2000, Allahabad HC upheld Rai's conviction
Rai appealed in the Allahabad HC which, in 2000, upheld the conviction, but set aside the death penalty saying no special reason was accorded by the GCM which also didn't do the balancing of mitigating and aggravating circumstances.
The Central government challenged the verdict in the SC which, in 2006 remanded the case back to the HC and asked it to decide it afresh.
Love India news?
Stay updated with the latest happenings.
Yes, notify me
Rai's plea dismissed by the Allahabad HC in 2007
The Allahabad High Court, however, dismissed the plea by Rai on May 8, 2007, due to non-prosecution as the lawyer could not appear.
The plea for restoration was filed compounding the woes of Rai and his wife Mithilesh as the case files remained untraceable in the High Court Registry from 2007 and 2013 and finally, the case got revived.
The plea by Rai's wife to the SC seeking justice
The plea said that the high court, despite the specific order of the top court, transferred the case to the Armed Forces Tribunal (AFT) to decide the case of Rai by scrutinizing the 1991 findings arrived at by the General Court Martial (GCM).
Armed Forces Tribunal dismissed Rai's plea in 2015
The AFT, which adjourned hearing on four occasions, dismissed the plea by Rai for non-prosecution in 2015.
Ultimately, the wife of the jailed Army man moved the top court through senior lawyer Shekhar Naphade and advocate Amartya Kanjilal seeking enforcement of the fundamental right to life.
The top court has issued the notice to the Centre and others recently.
Rai was allegedly involved in the murder of two colleagues
Rai was allegedly involved in the murder of two Army personnel on June 15, 1991, and was immediately taken into custody.
His wife alleged that during last 27 years of incarceration, Rai has not been released even once on bail, parole or furlough.
The plea seeks quashing of the order of the sentence passed by the GCM and also his release.