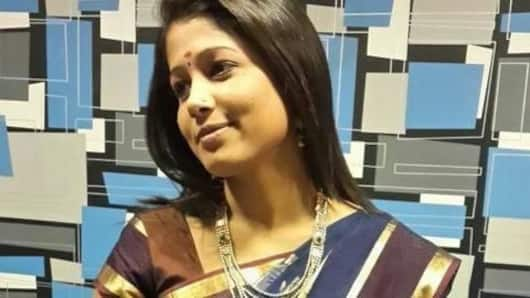 'My brain is my enemy': Telugu-anchor Radhika Reddy kills herself
A newsreader of popular Telugu channel V6 allegedly jumped off from the roof of her Hyderabad apartment yesterday night, a couple of hours after returning from work.
In her suicide note, Venkannagari Radhika Reddy, who hosted the 9pm bulletin, said she was depressed. "My brain is my enemy," she wrote.
She had reportedly got divorced six months ago and had an autistic 14-year-old son.
Reddy jumped soon after reaching home from work
Reddy reached home after work in Srivila Apartments at Moosapet at around 10:30pm yesterday, police said.
After keeping her belongings in her second-floor flat, she went to the fifth-floor terrace and jumped.
"She died on the spot due to multiple injuries to her head and limbs," ACP Bhujanga Rao said.
Reddy was staying with her parents after the divorce.
'Reddy was jovial, didn't talk about family problems at work'
Her colleagues expressed shock at the development. They described her as a jovial, efficient worker who anchored several devotional programs.
"She never talked about her family problems in the office," one said, and had read her last bulletin normally, without showing distress.
But in the suicide note police found in her bag, she wrote of her depression. "Nobody else is the reason," she said.
Love India news?
Stay updated with the latest happenings.
Yes, notify me
Police have lodged a case of suspicious death
"So sad to hear the news. Really we miss u dear, what made u to take such bad step?!" tweeted Nellutla Kavitha.
"Shocking to hear...Let #depression not kill you #KillSilence. Condolences to the family," posted Preeti Biswas.
Police have now lodged a case of suspicious death and are probing the matter. They have retrieved Reddy's call records and are analyzing them.