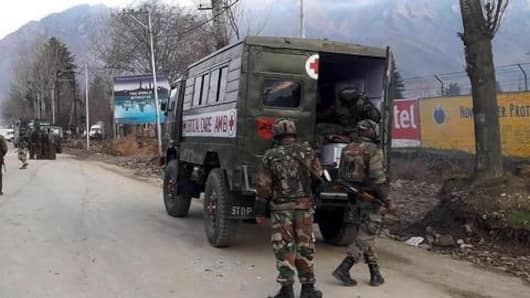 Two Army jawans, 8 terrorists killed in South Kashmir encounters
In a major crackdown on terror groups, two Army jawans, eight terrorists, and two civilians were killed in near-simultaneous operations launched at three places in South Kashmir.
The operations by security forces rendered a severe dent to terror groups such as the Hizbul Mujahideen and the Lashkar-e-Taiba, officials said.
A press conference was convened at the Victor Force headquarters, Awantipura to address the matter.
Eight terrorists killed; one captured alive
At the press conference, Jammu and Kashmir Director General of Police (DGP) SP Vaid said that two Army jawans lost their lives at the Kachdooru encounter in Shopian district, where a gunbattle was still going on.
So far, eight terrorists have been killed in Dialgam and Draggad villages while one other has been captured alive, the DGP said.
One of the biggest operations in recent times: Lt Gen
Corps Commander of XV Corps, Lt Gen AK Bhatt, termed it one of the biggest operations in recent times and said the death of Lt Umar Fayaz, who was brutally killed in Shopian last year, had been avenged.
"Among the militants killed are Ishfaq Malik and Rayees Thokar. They're responsible for his death," Bhatt said.
Fayaz was assassinated by terrorists in May 2017.
Love India news?
Stay updated with the latest happenings.
Yes, notify me
One SSP made efforts to convince a terrorist to surrender
The DGP also made a special mention of an SSP's (Senior Superintendent of Police) efforts to convince a terrorist to surrender during the Dialgam encounter.
"This is unheard of in any part of the world," said the DGP.
"He called the family members of one of the terrorists. They spoke with him for 30 minutes, to convince him to surrender," the officer said.
The terrorist didn't heed the advice of his family: DGP
"Unfortunately, he (the terrorist) didn't heed the advice of his family. The district SSP tried to get him over. Instead, he fired on the police leaving...(them) with no option other than to retaliate. He was killed. The other one was caught alive," the DGP said.
Around 25 civilians received pellet injuries at Kachedoora encounter site
On the ongoing operations at Kachedoora, the DGP said there was information about the presence of four to five terrorists, but "we will be able to give a clear picture only after the debris is cleared".
Violence broke out at the Kachedoora encounter site in which 25 civilians received pellet injuries while six others suffered bullet injuries, the police chief said.
Painful to see young boys getting killed: DGP
The DGP said that all the seven terrorists killed in the Draggad encounter were locals and their bodies have been claimed by their families.
Inspector General of CRPF Zulfikar Hassan pointed out that people came in large numbers at the encounter site in Shopian.
It was painful to see young boys getting killed in this manner, the DGP said.