Gaganshakti-2018: Historic Air Force exercise 'shakes heavens, splits Earth'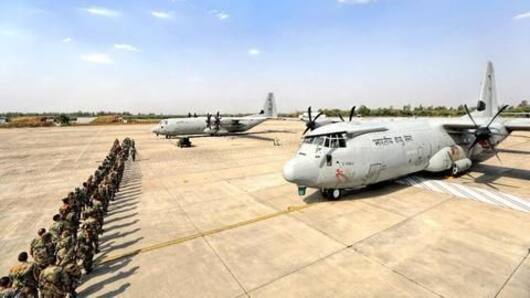 The Indian Air Force (IAF) is in the middle of its largest exercise in three decades, with more than 1,100 aircraft involved in "flying a lot of sorties and dropping a lot of bombs," said Air Chief Marshal BS Dhanoa.
All training activities have been suspended for 'Gaganshakti-2018,' something only done during war.
"I'd say we're really shaking the heavens and splitting the Earth."
In context
Gaganshakti-2018 witnesses spectacular displays of IAF skill
About
Gaganshakti aims to test IAF's preparedness for war
The prime aim of Gaganshakti, scheduled during April 8-22, is to test IAF's readiness for a two-front war with China and Pakistan, though Dhanoa hasn't officially confirmed it.
But he claimed "every single platform in the IAF's inventory is being exercised."
Every wartime drill is being practiced - from deep strikes to air dominance and long-range maritime strikes to air defense.
Love India news?
Stay updated with the latest happenings.
Notify Me
Resources
15,000 airmen, 1,100 aircraft and 6,000 flying hours in 3-days
The massive operations have engaged 1,100 aircraft (half are fighter jets), 300 officers and over 15,000 airmen.
Teams of army and navy are also participating in joint drills.
Overall, more than 6,000 flight hours have been recorded and more sorties seen in just three days, than fighters would normally conduct in a month, Dhanoa said.
The Tejas was also deployed for the first time.
Exercises
Evacuation drills, paradropping soldiers, mid-air refuelling and more
These days have witnessed spectacular shows, an IAF statement said. One exercise involving the Parachute Brigade "included paradrop of 560 paratroopers, combat vehicles and GPS-guided cargo platforms."
In evacuation drills, 88 "casualties" were airlifted from Leh to Chandigarh via a modified C-17 Globemaster aircraft.
In maritime air operations, Su-30s "engaged multiple targets...and (ended up) covering 4,000km in one mission."
The IL-78 aircraft refueled them mid-air.
Operation Brass Tacks in 1987 had shaken Pakistan, says Dhanoa
"India has not witnessed anything at this scale since Operation Brass Tacks in 1987," Dhanoa said. Operation Brass Tacks was till then India's largest peacetime military exercise, and had sent shockwaves through Pakistan.
Success
Barring a few glitches, things have been smooth sailing
Barring a few glitches, the overall exercise has been successful so far. In one instance, a Jaguar fighter veered off the runway at Bhuj airbase due to bad weather.
A few Tejas aircraft developed snags, but HAL corrected them in less than 12 hours.
However, compared to an ideal flight squadron of 42 units, the IAF currently has just 30 (excluding eight Tejas aircraft).
Pakistan is once again rattled like in 1987: Dhanoa
Like in 1987, Pakistan has once again been rattled, Dhanoa said. "We have noticed that (Pakistan) is monitoring Gaganshakti-2018 closely through their airborne sensors" despite being notified earlier, he said, suggesting the sheer scale and complexity of the exercise was unnerving for the western neighbor.
What is Tejas?
Asked on 17-04-2018 by Ratnakar Shukla
Answered by NewsBytes
The HAL Tejas is a single-seat, single-jet engine, multirole light fighter aircraft designed by the Aeronautical Development Agency (ADA) and Hindustan Aeronautics Limited (HAL) for the Indian Air Force and Navy. It is the first time that Tejas is taking part in such a military exercise.