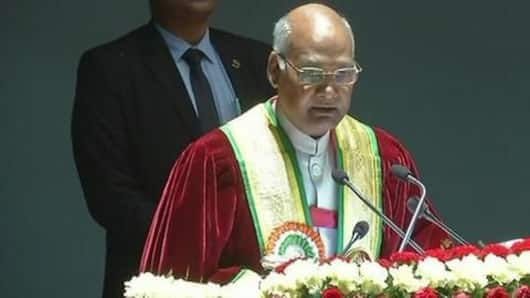 Kathua gangrape: President Kovind calls it a "barbaric" incident
President Ram Nath Kovind on Wednesday termed the Kathua gangrape and murder case as "barbaric" and said it was the collective responsibility of society to ensure such things do not happen with any girl in the country.
The President who is on a two-day visit to Jammu spoke on the matter while addressing the sixth convocation of the Shri Mata Vaishno Devi University (SMVDU).
Responsibility of all to ensure such things do not happen
"It is the collective responsibility of all of us to ensure anything like this should not happen with any girl in any part of the country", President Kovind said, terming the incident as "heinous and barbaric".
President hopeful about fulfilling responsibility of securing girl child
The President said he was hopeful that "all among us will fulfill the responsibility of securing our girl child".
The brutal gang rape and murder of the eight-year-old girl has already seen a nationwide outrage with protests being observed across the country.
Earlier in the day, the President arrived in Jammu for his maiden two-day visit to the state.
Why there are only girls who have to suffer and from everything they have to suffer..??? Ans this question of mine..... ashamed to be an INDIAN ashamed to be a girl of INDIA.
Asked 2018-04-18 17:20:31 by adiba ahmed
Answered by NewsBytes
As a girl, I am telling you - Raise your voice, by all means, but don't let this affect you. At your age and mine, we should concentrate our rage and work hard. Our wisdom lies in accepting the things we can't change. What we can slightly change though is the environment around ourselves.