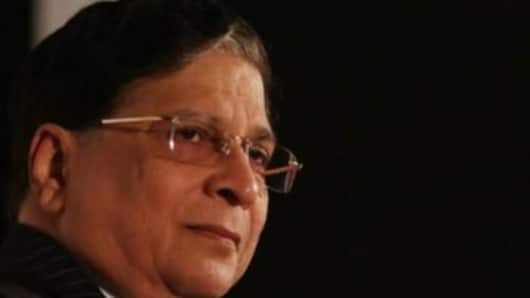 Opposition submits impeachment motion against CJI to Vice-President
The Opposition has submitted a notice for impeachment of Chief Justice (CJI) Dipak Misra to Vice-President and Rajya Sabha Chairman, Venkaiah Naidu.
Over 60 MPs from seven parties signed the notice.
Congress held discussions with other parties earlier in the day.
This comes a day after the SC refused an independent probe in Judge BH Loya's death.
The historic press conference from when it all started
Two months ago, Justices Jasti Chelameswar, Ranjan Gogoi, Kurian Joseph and Madan Lokur called a press conference and alleged the SC's freedom and integrity have been thrown into uncertainty.
Among other allegations, they accused Misra of abusing his position of power to assign important cases to select judges.
"Let the nation decide" if Misra should be impeached, they added.
Several complaints against the CJI in the Opposition's motion
After much discussion, Congress formally started collecting signatures for a motion for Misra's removal late last month.
The motion accuses Misra of not acting on the complaints of the four judges, conspiring in the illegal licensing of a private medical college, acquiring land illegally when he was a practising lawyer, and damaging the credibility of the SC's institutional autonomy, among others.
Love India news?
Stay updated with the latest happenings.
Yes, notify Me
Was the SC judgement on Loya's death a catalyst?
Even though Congress secured around 65 signatures, 15 more than needed, there was speculation it was keeping the plan on hold to garner more support.
Today's development come after the SC refused a probe on Loya's death, a key issue raised by the four judges, who alleged unfair proceedings by Misra in the case.
Congress termed yesterday's verdict a "sad day in India's history."
Left parties, NCP, RJD backing the motion
At 11 am, Leader of Opposition in the RS Ghulam Nabi Azad met parties supporting the motion, which include CPI, CPI(M), NCP, RJD, Samajwadi Party, BSP and the Muslim League. Trinamool Congress has, however, refrained from the motion.
Can the motion actually change things?
Now that the Opposition has moved the motion, the first uncertainty is if it'll be admitted by heads of both the Houses.
It then needs to be passed by two-thirds of half the strength of either House. The Opposition doesn't have the numbers.
Moreover, investigation of accusations can take over a year; Misra retires in 2018.
The motion isn't likely to affect Misra's work.
Judges who have faced similar motions till now
If the motion passes, Misra will be the first CJI to face impeachment.
The first SC judge against whom proceedings were initiated was V. Ramaswami (1993), but it lacked requisite support.
Justices Soumitra Sen (Calcutta-HC, 2011) and PD Dinakaran (Sikkim-HC, 2011) resigned before the proceedings started.
A motion was moved against Justice JB Pardiwala (Gujarat-HC, 2015), but then he corrected the issue of contention.
What is the salary of CJI?
Asked 2018-04-20 15:59:57 by Armaan Pandit
Answered by NewsBytes
After the 7th Pay Commission, CJI is entitled to a salary of Rs. 2.8 lakhs/month.
How is impeachment of an SC judge done?
Asked 2018-04-20 15:58:15 by Manoj Panchal
Answered by NewsBytes
A supreme court judge can only be impeached on two grounds- proved misbehavior and incapacity. You can check out the procedure for impeachment of an SC judge here.