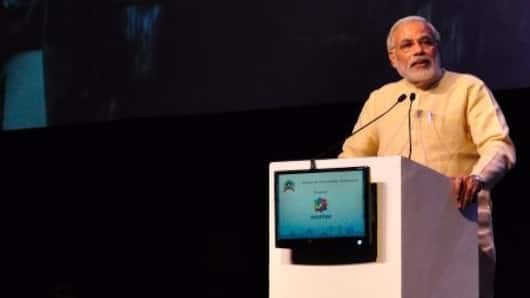 Modi to embark on 5-nation tour
Prime Minister Narendra Modi will embark on a five-nation tour to Afghanistan, Qatar, Switzerland, the United States and Mexico.
The visit, which will commence on 4 June, will see the signing of several bilateral agreements on economic, security and energy co-operation.
A prominent point on the agenda could include the black money issue which has plagued the NDA government in domestic politics.
Inauguration of an India-built asset
Beginning his trip with Afghanistan, Narendra Modi will travel to the Herat Province to inaugurate the Salma Dam which was funded by India.
The cost of constructing the dam was about Rs.1400 crore.
The dam is expected to generate 42 MW of electricity which will add to Afghanistan's power starved grid; and would irrigate 80,000 hectares of farmland, boosting the region's agriculture.
Prime Minister's official visit to Qatar
Modi's visit to Qatar will signify the continuation of efforts to recast India's ties with the crucially important Gulf region.
The two-day visit will be the first official visit after Former Prime Minister Manmohan Singh had visited Doha in 2008.
Modi and Emir of Qatar, Sheikh Tamim bin Hamad Al-Thani will hold extensive talks on economic issues, particularly on India's energy secuirty.
Love India news?
Stay updated with the latest happenings.
Yes, notify Me
Importance of relations with Qatar
With bilateral trade in 2014-15 exceeding $15 billion, Qatar is India's largest supplier of LNG requirements and accounted for 65 per cent of India's total LNG imports in 2015-16. It is also one of India's key sources of crude oil.
Agenda of the meeting in Switzerland
The Prime Minister will interact with the Swiss leadership including President Johann Schneider-Ammann.
In a bid to fulfill his 2014 election promise, Modi seeks cooperation to unearth black money accounts held by Indians in Switzerland.
Officials of both countries are working on finalising an agreement that can lay the foundation for automatic exchange of information (AEOI) on tax-related issues.
First stand alone bilateral trip to USA
A statement released by the White House Press Secretary states that the visit will highlight the strengthning of the US-India relationship.
Objectives of the meeting include consolidating progress made in diverse areas like economy, energy, environment, defence and security, and intensifying cooperation for the future.
Paul Ryan, Speaker of the US House of Representative invited Modi to address a joint meeting of the US-Congress.
Post USA visit, PM likely to visit Mexico
On completing his visit to the US, PM Modi is likely to head to Mexico, where India is eyeing trade and investment tie ups.
Recent discoveries of hydrocarbon resources in Mexico have created speculation of possible energy deals.
Modi last held talks with Mexican president Enrique Peña Nieto in Sep'15 in New York.
After 2008, no high-level official visit to Mexico has been undertaken.
Modi awarded Afghanistan's top civilian honour
After inaugurating the Afghan-India Friendship Dam, PM Narendra Modi was awarded the Amir Amanullah Khan Award, Afghanistan's highest civilian honour, by President Ashraf Ghani.
He is currently on visit to Qatar where he met Qatar's Emir, Sheikh Tamim Bin Hamad Al Thani in Doha.
Among other things, he is expected to hold talks on the conditions of migrant labourers working in Qatar's construction sector.
India, Qatar sign 7 agreements
Credits:
India and Qatar signed seven agreements, following delegation level talks headed by Prime Minister Narendra Modi and Qatar's Emir Tamim Bin Hamad Al Thani.
The agreements covered a broad range of subjects including on investments, health, tourism, skill development, financial information sharing, customs procedures and sports.
He was later hosted for dinner by Qatari Prime Minister Abdullah Biv Nasser bin Khalifa Al Thani.
Swiss pledge to help with black money issue
Switzerland has agreed to work with Indian authorities to tackle tax dodgers.
The move comes after PM Modi held talks in Geneva with Swiss President Johann Schneider-Ammann and round-table discussions with Swiss businessmen.
Negotiations on the Agreement on Automatic Exchange of Information is expected to speed up.
Switzerland had also agreed to support India's bid for membership of the Nuclear Suppliers Group (NSG).
India, US ink 8 agreements on Modi's visit
India and the US inked eight agreements after talks between Prime Minister Narendra Modi and US President Barack Obama in the White House.
The agreements span across various sectors including defence co-operation, counter-terrorism and energy security.
In addition several MoUs have also been signed on wildlife co-operation, visa and customs, maritime information sharing and terror related intelligence sharing.
Mexico supports India's NSG bid
Days after getting Switzerland's backing, India gained support from Mexico for its bid to become a member of the Nuclear Suppliers Group (NSG).
Mexico's President Enrique Pena Nieto said thatMexico "positively and constructively" supports India's membership to the NSG.
The statements were made dueing PM Modi's bilateral visit to Mexico.
Modi said he thanked Mexico for "supporting India's membership to the Nuclear Suppliers Group."