India
Pulgaon's Central Ammunition Depot in flames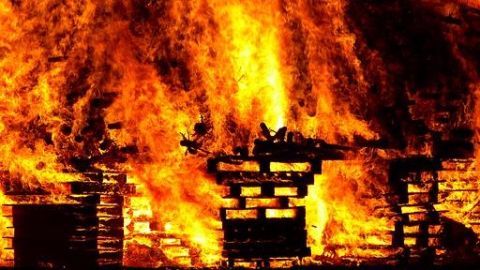 A shed in the CAD, which stores a huge amount of ammunition from big Brahmos missiles to AK 47 rifles caught fire on 31 May.
Two Army officers, one jawaan and thirteen firefighters died trying to stop the fire from escalating.
The cause of fire is left to be established; a Court of Inquiry (COI) into the mishap has been ordered by the Army.
In context:
2016 Ammunition Depot Fire
Background

About the Central Ammunition Depot (CAD)
Central Ammunition Depot (CAD), located in Wardha district in Maharashtra, is a military area along with being the second largest ammunition depot in Asia.
Known as the 'mother depot', it feeds the country's 1.18 million strong army through 14 field ammunition depots (FAD's).
CAD Pulgaon had cleared the safety audit carried out by the DRDO's Centre for Fire, Explosive and Environment Safety (CFEES).
History

Major depot fires in India
Recent years have witnessed a handful of fires at ammunition depots. The biggest of them was a fire at an ammunition depot in Bharatpur, Rajasthan in 2000, where 2 people died.
The 2007 Jammu & Kashmir fire killed 19 people and destroyed Rs, 1,313 crore worth of ammunition.
The fire in West Bengal's Panagarh ammunition depot, 2010, destroyed tons of ammunition but nobody died.
Love India news?


Stay updated with the latest happenings.
The Incident

Major Fire at CAD
On 31 May, a fire broke out in one of the sheds housing "highly sensitive ammunition" in the CAD, spread over 7,000 acres.
The wounded were taken to hospitals in Wardha, 33 kms from Pulgaon, to be treated for severe burn injuries.
Defence Minister Manohar Parrikar along with Army chief General Dalbir Singh Suhag visited CAD; they also met the injured persons.
Award

In April, the CAD in Pulgaon won an award for disposing expired ammunition in safe, green and cost-effective "demilitarisation" exercise by using concentrated solar energy.
1 Jun 2016

Pulgaon's Central Ammunition Depot in flames
Casualties

Excluding the loss suffered in Tuesday's blaze, arms, ammunition and missiles worth well over Rs 3,000 crore have been destroyed in fires in ammunition and ordnance depots in the country since 2000.
Love India news?


Stay updated with the latest happenings.
2 Jun 2016

Death toll 19 in ammo depot fire
Three bodies were recovered from the site of the fire at the Central Ammunition Depot at Pulgaon in Maharashtra, taking the death toll to 19.
The bodies, which were charred beyond recognition have been taken into the Army's custody.
Army officials said they would conduct DNA tests to ascertain the identity of the victims.
Sources said that the fire has been completely doused.