MeT department issues 'amber' alert: Here's what color codes mean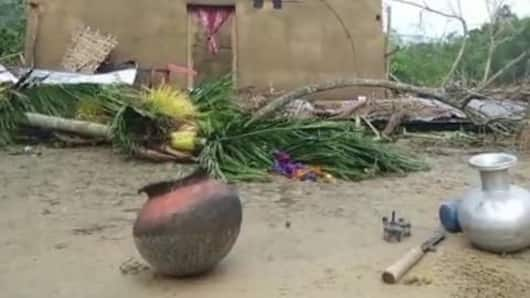 The Indian Meteorological Department (IMD) issued an amber alert on Tuesday, after a powerful dust-storm, having a speed of 70 kmph, rocked Northern India disrupting normal life.
But what does an amber alert mean? It means people need to be prepared for change, as the weather is likely to worsen.
One should expect delays in rail, flight services; and electricity disruption.
In context
Thunderstorm, heavy-rains alert: Understanding MeT department's color codes
A quick guide
Green, yellow and red are other color codes MeT uses
A green alert means everything is fine. A yellow one means one should stay aware and plan the travels accordingly, as the weather might take a bad turn.
A red alert translates to extremely bad weather. People are advised to consult local authorities and follow their instructions. They should avoid dangerous areas, as a risk to lives and widespread damage is likely.
Details
Bad weather kills more than 100 in North India
A freakish thunderstorm on May 3 killed over 117 in Northern India, and the IMD warned of few more in the coming days.
The thunderstorm left a trail of destruction wrecking mud houses, damaging crops and uprooting trees and electricity poles.
Calling it a freak accident, an official said, "Duststorms are usually not this intense, nor do these systems cover such a large area."
Love India news?
Stay updated with the latest happenings.
Notify Me
Which states are in danger?
Alerts for thunderstorm, hail or squall have been issued for various places in Assam, Bihar, Chandigarh, Delhi, Haryana, HP, J&K, Karnataka, Kerala, Manipur, Meghalaya, Mizoram, Nagaland, Odisha, Punjab, Sikkim, TN, Tripura, UP, Uttarakhand and West Bengal. In Rajasthan, dusts-storms are expected to disrupt normal life.
During
Watch out for these during the storm
Avoid small shells and isolated trees, and take cover under a sturdy building, a hard-top automobile or a group of short trees.
If flooding is possible, get to higher ground. Avoid driving.
If inside home, don't use electrical appliances unless absolutely necessary. Close the blinds on windows and doors.
Don't use the plumbing system: no baths, no washing utensils or clothes.
Lightning
The dangers of lightning are real, even in India
A prime killer during thunderstorms is lightning, and it happens much more frequently than people believe.
In June'16, a whopping 120 people died in lightning strikes across the country in just two days.
In fact, according to EPW, 1,755 people die from lightning strikes every year, the highest toll among deaths caused by flood, landslide, heat strokes and cold waves.