AP special-status: TDP workers block Amit Shah's road, break windshield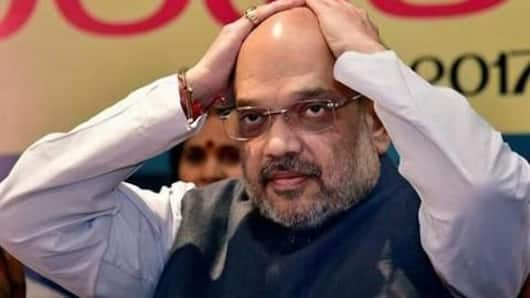 TDP workers demanding special status to Andhra Pradesh (AP) today broke out in violence, attacking BJP chief Amit Shah's convoy near Tirumala in Chittoor and clashing with their BJP counterparts.
The windshield of one of the cars in his convoy broke, but Shah managed to leave before further damage.
He was on his way back after paying obeisance to Lord Venkateshwara in Tirumala.
In context
Amit Shah attacked in AP over special-status demand
Category
What is special category status?
The status was awarded by the National Development Council to disadvantaged regions. Factors considered include difficult terrain and infrastructural backwardness.
These states got 90% funds for centrally-sponsored schemes.
But the 14th Finance Commission "constitutionally" ruled out SCS anymore.
Instead, divisible pool to all states was increased from 32% to 42%.
Devolution includes variables like "forest cover," which could benefit the northeast previously under SCS.
Violence
'Amit Shah Go Back': TDP workers shout slogans, block roads
TDP activists wearing black badges and holding party flags today blocked Shah's road at the Alipiri checkpost when he was returning to Tirupati.
They shouted slogans like "Amit Shah Go Back" and "We want justice."
Clashes erupted after BJP workers accompanying Shah tried to push them back.
A TDP worker threw stones which hit the windshield of a car in his convoy.
Love India news?
Stay updated with the latest happenings.
Notify Me
Shah faced sloganeering at the Lord Venkateshwara temple too
Shah faced similar resistance after coming out of the temple earlier. Devotees standing in queues shouted slogans against the BJP and demanded special category status. At Alipiri, security personnel accompanying him and cops at the spot dispersed and detained some TDP workers, as Shah drove away.
History
AP has been demanding special status since 2014
AP has been demanding special status since it was split into two in 2014. According to the arrangement, its former capital Hyderabad would serve as a joint capital for AP and Telangana till 2024, before it permanently shifts to the latter.
AP's ruling TDP even broke away from the NDA this year over the issue, and pulled out its ministers from the government.