India
Govt says India remains polio-free after Telangana scare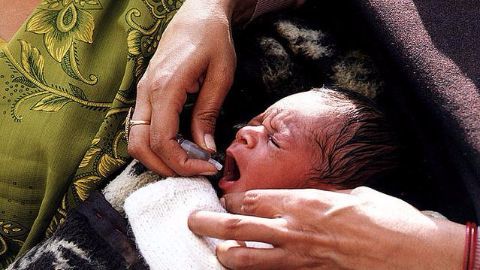 Amidst concerns over a strain of Polio virus being found in a Hyderabad drain, Union Health Ministry said it was a vaccine derived virus and does not change polio-free status of India.
It also said that no children were found affected by Polio in area where it was found.
As a precaution, the ministry will hold special immunization drive in high-risk areas of Telangana.
In context:
Polio scares in India
Polio

Polio virus and its effects
Poliomyelitis or Polio is a highly infectious disease caused by a virus that attacks the nervous system. It mainly affects children under 5 years of age.
The virus is transmitted from person-to-person, spread mainly through the faecal-oral route or contaminated food or water.
1 in 200 infections leads to irreversible paralysis.
There is no cure for Polio, it can only be prevented.
Prevention : Oral Polio Vaccine or OPV

Oral Polio Vaccine or OPV consists of a mixture of live, attenuated (weakened) strains of all three poliovirus types. OPV produces antibodies against poliovirus. In the event of infection, these antibodies protect against paralysis by preventing the spread of wild poliovirus to nervous system.
Love India news?


Stay updated with the latest happenings.
Pulse

'Pulse Polio', polio eradication programme in India
With the global initiative of eradication of polio in 1988, 'Pulse Polio Immunization programme' was launched in India in 1995.
Children in the age group of 0-5 years were administered polio drops during national and sub-national immunization rounds (in high risk areas) every year.
This reduced the number of cases to less than 2000 cases annually, until 2010, when only 42 cases were reported.
27 Mar 2014

WHO declares India Polio-free
In the absence of wild polio virus transmission, the World Health Organization (WHO) officially declared India 'Polio Free'.
India had been Polio-free since January 2011, when the last case of wild polio virus was detected in West Bengal.
India was one of the 11 countries in the South East Asian region which were certified as being free of the wild polio virus.
Only two countries on polio endemic list

After WHO announced in Sep 2015 that Polio was no longer endemic in Nigeria, only two countires in the world - Afghanistan and Pakistan, are left where the virus continues to remain endemic.
16 Jun 2016

Govt says India remains polio-free after Telangana scare
Love India news?


Stay updated with the latest happenings.
Vaccine derived Polio virus or VDPV

Vaccine derived polioviruses or VDPV are a rare strain that are genetically mutated from the strain contained in the Oral Polio Vaccine. Last case of wild polio virus type 2 (found in Hyderabad sewage water samples) in country, was reported 17 years back in 1999.
16 Jun 2016

WHO says India's polio-free status unaffected
World Health Organization (WHO) said the detection of vaccine-derived polio virus (VDPV) in different parts of the country does not change India's polio-free status.
The agency described it as a "low-level threat".
WHO said that between January 2015 and May 2016, a total of 14 sewage samples collected from various parts of the country, including Hyderabad, tested positive for VDPV.
18 Jun 2016

Another polio scare, this time in UP
A suspected polio case came to light in Uttar Pradesh's Balrampur district, ringing alarm bells in the Health Ministry.
The case came to light days after a similar scare in Telangana.
The Union Health Ministry initiated a probe into the incident, sent a report to the WHO and clarified that it investigates several such cases every year, that turn out to be false alarms.
24 Jan 2017

Gujarat hit by polio virus after ignoring warnings
A few months back, Gujarat and Telangana were warned by the World Health Organization about the return of the Vaccine-Derived Type 2 Polio Virus (VDT2PV).
Telangana declared a "global emergency" in June 2016 after detecting the wild type 2 polio virus.
In Gujarat, 4 months after the state health department was told to switch vaccines but it didn't, the virus was detected.
30 Jan 2017

India facing polio risk from neighbours
Union Health Minister JP Nadda said, India was conducting "polio vaccination at international borders," because of the risk of travellers bringing the polio virus to India.
He said the risk of polio "still persists from three countries (Pakistan, Afghanistan, and Nigeria) where poliovirus continues to circulate."
He added that travel advisories were issued for travellers to eight countries where the virus is still present.