India
Government to work on starting 'Blue Revolution'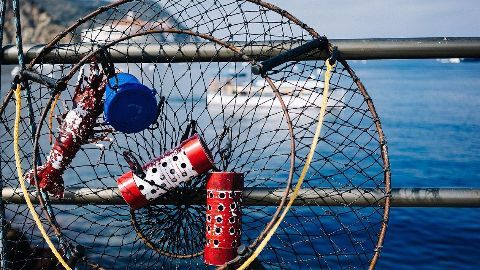 India's agriculture ministry has proposed to bring into effect a new national policy on fisheries, with schemes involving the private sector for developing and managing fisheries.
The policy, promoting a 'Blue Revolution' will be out next month.
The policy is set to cover marine development and management, and all other undertakings of the National Fisheries Development Board (NFDB) concerned with aquaculture and fisheries.
In context:
Government to launch 'Blue Revolution' scheme next month
India

India's fishing industry
India's fishing industry is placed as the second largest producer of fish across the globe, after China, exporting over 50 different fisheries products to over 75 countries.
Its fish production has increased to 100.7 lakh tonnes last year from a meagre 7.5 lakh tonnes in 1950-51.
USA is the biggest market for Indian fisheries products, followed by South-East Asian countries and the European Union.
World Fishing Industry

The world fishing industry has seen a drastic jump in consumption of fish over the last few decades, increasing production to 195.78 million tonnes in 2014. Aquaculture has contributed a major role towards this increase, and is expected to contribute upto 50% in the coming years.​
Love India news?


Stay updated with the latest happenings.
Policy

India's existing marine policy
The Comprehensive Marine Fishing Policy, 2004 targeted improvement of socio economic status of fisherfolk and those working in the fiseries sector by providing economic incentives.
It aimed at development of fishery both in marine and inland areas.
A panel was constituted to review this policy in 2015, to bring about a new policy with changes in technology aimed at the development of aquaculture.
20 Jun 2016

Government to work on starting 'Blue Revolution'
Targets

Targets of the new fisheries policy
The government will work towards increasing fisheries exports from Rs.33,441 crore in 2014-15 to Rs.1,00,000 crore over the next five years.
With an outlay of Rs.3,000 crore for five years, Center looks to achieve three-fold increase in export earnings.
A proposal has been made to merge all of the current fisheries schemes that would help increase productivity from fisheries and meet the target.
Targeting greater revenues across the years

"Focus on fisheries, particularly the inland ones, will also help in realising the goal of doubling the income of

farmers

in next five-six year through involving them in allied activities by tapping various water bodies including newly dug up ponds across the country." - GoI