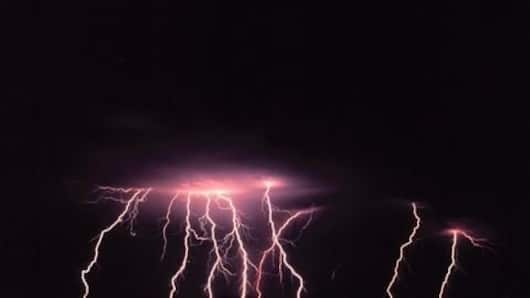 IMD: More thunderstorms in North, Northwest India till Friday
More thunderstorms and squalls will plague North and Northwest India from Wednesday till Friday, warned the Indian Meteorological Department (IMD) following a dust storm and thundershowers in Delhi and NCR on Wednesday morning.
Weather in the region will continue to be affected by fresh western disturbance that brings moisture from Eurasian water bodies, added the IMD.
Here are the details.
Which regions will be affected?
Credits:
Wednesday onwards, more thunderstorms and gusts are set to hit North India including hilly regions in Jammu and Kashmir, Himachal Pradesh, and Uttarakhand, and in plains of Delhi, Chandigarh, Haryana, Punjab, and Uttar Pradesh.
East India is also expected to see scattered thunderstorms from Wednesday.
Additionally, along with Tamil Nadu, Kerala, and Puducherry, coastal areas of Andhra Pradesh and Karnataka will also see thunderstorms.
Delhi-NCR to experience lower temperatures due to weather
Strong winds and light rains in Delhi and the NCR on Wednesday morning brought about a sudden decline in temperature - temperature for the day is likely to hover between 26 degrees Celsius and 38 degrees Celsius.
The sky over the region will be generally cloudy with a possibility of rain.
Reports of trees falling on cars in Delhi's Lodhi Colony have also surfaced.
Love India news?
Stay updated with the latest happenings.
Yes, notify Me
Since 2nd May, 134 people have been killed by storms
The IMD's latest forecast is in contradiction to its Tuesday forecast which predicted thunderstorms and gusty winds just for the day in North and Northwest India.
Since Sunday, more than 80 people have died in six states owing to thunderstorms and lighting strikes.
The recent spate of stormy activity since May 2 has killed 134 and injured over 400 people. UP was the worst-hit.
Meanwhile, watch out for these during the storm
Avoid small shells and isolated trees, and take cover under a sturdy building, a hard-top automobile or a group of short trees.
If flooding is possible, get to higher ground. Avoid driving.
If inside home, don't use electrical appliances unless absolutely necessary. Close the blinds on windows and doors.
Don't use the plumbing system: no baths, no washing utensils or clothes.