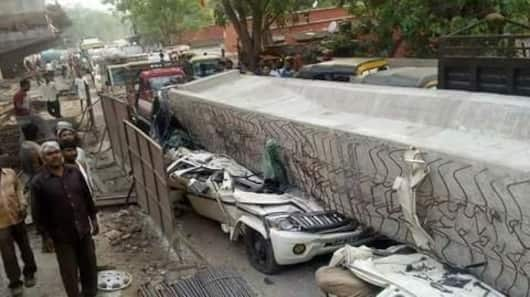 Varanasi-flyover collapse: Since November, five letters were written to firm
The Uttar Pradesh police has claimed of sending five letters to UP State Bridge Corporation (UPSBC) since November for not following traffic safety regulations during construction of the flyover, a section of whose collapse, on Wednesday in Varanasi, left 18 people dead.
The police had also registered an FIR this year, regarding the same.
However, the UPSBC did not respond to the warnings, IG Deepak Ratan said.
Despite warnings, flyover firm fails to take necessary action
Deepak Ratan said, "Ideally, when they are constructing a portion of the flyover, they are supposed to deploy their own staff for safe traffic regulation and they can request police assistance. But it is we who have been alerting them about the potential problem and they haven't acted."
At the site, chaotic construction work triggered public anger
After the accident, the personnel at Sigra police station filed an FIR against Pariyojana Prabandhak of UPSBC under relevant sections of IPC. The FIR stated several letters were written to project manager.
Further, the assistant director was deployed to ensure smooth traffic.
"But at the site, chaotic construction work and non-assistance in traffic management was causing the public extreme inconvenience and anger," described the FIR.
Love India news?
Stay updated with the latest happenings.
Yes, notify Me
UPSBC managing director tells his side of the story
Rajan Mittal, UPSBC managing director, claimed the board sought help from district administration and police to control traffic.
"As far as traffic management is concerned, it is not the responsibility of the bridge corporation and we had been writing to the district administration, and reminding them during meetings with the district magistrate and commissioner for traffic management," Mittal added.
District Magistrate refutes board's claims
"It's wrong to say they had written to us. The fact is we had written letters to them several times to clear service lane and even traffic police had written to them to cover work area and protect it," said District Magistrate Yogeshwar Ram Mishra.