6 best courses Delhi University offers for science students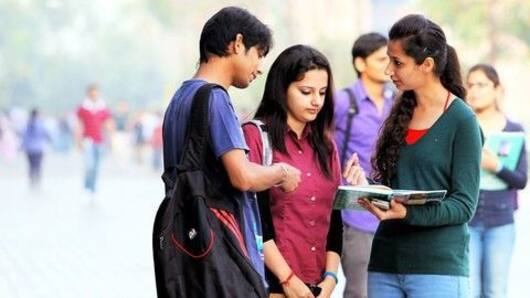 The University of Delhi is one of the most desired educational institutions in the country; every year, it receives lakhs of applications from students, including those from science stream.
While BE/BTech and MBBS are the most popular courses for science students, the university offers several medical and non-medical courses apart from these two.
Here's a list of six such courses offered by DU.
In context
List of popular DU courses for science students
Engineering
Engineering remains a popular choice among non-medical science students
Delhi University's Cluster Innovation Centre (CIC) offers BTech in Information Technology & Mathematical Innovations. It conducts an entrance exam to select students.
Also, Delhi's Netaji Subhas Institute of Technology (NSIT), affiliated to DU, offers Bachelor of Engineering (BE) program in subjects like Electronics and Communication, Computer Science, Mechanical, Information Technology, Biotechnology among others. Admission is done through JEE-Main followed by Joint Admission Counselling.
MBBS program
MBBS, most sought-after course after 12th in medical field
Delhi University also offers the five-year MBBS (Bachelor of Medicine and Bachelor of Surgery), an undergraduate program in the medical field.
Applicants must have studied physics, chemistry, biology, and English in Class-12 (or equivalent). They must have obtained at least 50% in Physics, Chemistry, and Biology subjects.
Selection is done on the basis of the candidate's NEET (National Eligibility cum Entrance Test) UG score.
Love India news?
Stay updated with the latest happenings.
Notify Me
BPharma
PCB students can also build career in pharmacy
Apart from MBBS, science students who have completed Class 12 with PCB (Physics, Chemistry, and Biology) can also pursue pharmacy, the field of health sciences focusing on safe, effective medication.
Delhi University offers three-year Bachelor of Pharmacy (BPharma) course. Applicants must have passed Class 12 (or equivalent) with a minimum of 60% in the three subjects. Admission to the program is entrance based.
BSc Food Tech
DU also offers BSc in Food Technology
Food Technology is a branch of science that primarily deals with the activities and techniques of manufacturing, processing, and preserving food.
The three-year Bachelor of Science in Food Technology course is also offered by DU. Students with a minimum of 55% score in Physics, Chemistry and Mathematics/Biology/Biotechnology and 50% marks in English.
Admission to this course depends on the cut-offs released by the colleges.
Computer Science
Another popular DU course, BSc (Hons.) in Computer Science
Computer Science is a field of study that covers the fundamentals and principles of computers, latest technologies, and design and use of computers.
Those interested in this can opt for the advanced three-year BSc (Hons.) in Computer Science offered by DU.
Applicants should have secured at least 55% overall in Class-12 and 60% in Mathematics, one language, and two other subjects. Admission is cutoff-based.
BA (Hons.) Psychology
Psychology, the science of human mind and behavior
Psychology is an interesting field that deals with the study of human mind and the functions that affect the human behavior.
Delhi University offers three-year Bachelor of Arts (Honors) in Psychology, which is one of the most popular DU courses. Students of any stream with a minimum of 45% at 10+2 level are eligible to apply.
Admission to this program is merit based. Most asked questions
Can you tell me about the BA course at DU CIC? What subjects can I study in BA?
Is there a graduation course in genetics/biochemistry in DU?
What are the best M.Sc courses for B.Sc Medical students?
Can Bihar board student apply for entrance in DU?
What is the syllabus for the Entrance exam for admission in B.Tech?
Does DU offer B.tech in aerospace or aeronautics stream?
What if I want to apply under ECA category? What is the process? I have studied non-med in class 12th but want to study BA Hons. I have 94 in Political Science and English, 86 in Phy.
How to get admission in DU in B.Tech courses?
Is B.Sc physical science offered in DU?
Can I get admission in DU in any course just on the basis of obtaining above than 95% marks in class 12th?
Does Delhi University offer BSc in chemistry?
List of colleges offering M.Sc. Zoology course in Delhi University?
Do I need overall 45% or 45% in each subject to register for BA psychology in DU?
Does DU offer food and nutrition or dietetics in B.Sc?
I don't find courses of my choice like B.sc. in physiotherapy, Ayurveda, homeopathy, bot, bpo, B.pharma and many more, where are they?
DU asks for only 55% overall for computer science?
Can you tell me from where can I get DU MSc physics previous year entrance exam solved papers?
Which course is the best after 12th for a non-medical student if I have secured 94 % in class 12th?
Is admission to B.Sc honors physics program entrance based?
Kya aap mujhe bata sakte hain ki DU MSc physics entrance exam ke liye konse book best hain ?
From which stream is questions asked in DU entrance exams?
Is B.Sc Environmental science a course in DU?
More questions