India
Lightning strikes leave 56 dead in Bihar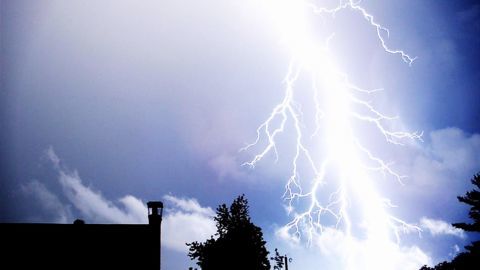 Bihar's disaster management department reported that lightning strikes left 53, including children and women, dead and dozens injured in several parts of Bihar over the last two days.
Bihar's Disaster Management Minister-Chandrasekhar, however, told the media that the death toll reached 56 for more information and reports from rural areas kept pouring in.
Reports show that lightning during monsoon is common in the state.
In context:
Nature's fury- Lightning deaths
Introduction

Deathly lightning strikes in India
Lightning strike deaths in India are more than any other natural calamity's; lightning accounts for at least 10% of the natural calamity deaths in recent years.
The National Crime Records Bureau stated that since 2005, lightning strikes killed over 2,000 people every year.
Unlike floods and earthquakes, lightning isn't categorized as a natural calamity and the government doesn't provide compensation to the victims.
23 Jun 2016

Lightning strikes leave 56 dead in Bihar
Love India news?


Stay updated with the latest happenings.
Death toll particularly high this year

Lightning strikes are common during monsoon; the season usually occurs during Jun- Sep when the country receives 80% of the annual rainfall. But, reports show that the lightning deaths recorded this year (since the time of onset of monsoon) in India are particularly high.
Affected Districts

Districts affected by lightning strikes
Disaster management officials confirmed that lightning killed seven in Rohtas district; while five people each in Kaimur, Patna, four each in Buxar, Aurangabad and Nalanda districts.
Lightning strikes in Saran, Saharsa, Purnea and Kathiar claimed lives of three in each region.
Two deaths each recorded in Bhagalpur, Bhojpur, Munger, Samastipur and Madhepura districts; one death each in Gaya and West Champaran was confirmed.
Number of injuries recorded

The Disaster Management Department of Bihar also confirmed that the lightning injured a total of 16 people collectively in Rohtas and Patna districts. More than a dozen people were reportedinjured in Kosi area of Saharsa district.
Other States

Uttar Pradesh, Madhya Pradesh, Jharkhand also affected
Apart from Bihar, states like Uttar Pradesh, Madhya Pradesh, and Jharkhand have also been affected by lightning strikes, say officials.
Authorities in Uttar Pradesh confirmed 20 deaths in the state.
The death toll in Madhya Pradesh reached 16 while, at least ten deaths have been reported in Jharkhand.
Most of the people died while working on farms during heavy rains over two days.
Love India news?


Stay updated with the latest happenings.
Compensation

Bihar govt announces exgratia
As the death toll in the country inched closer to 100 in two days, farmers in the affected states have called for action from the government.
Bihar Chief Minister Nitish Kumar declared an exgratia of Rs.4 lakh to the families of the deceased to provide relief.
Bihar government has also promised other relief funds would be made available to the injured, depending on the severity.