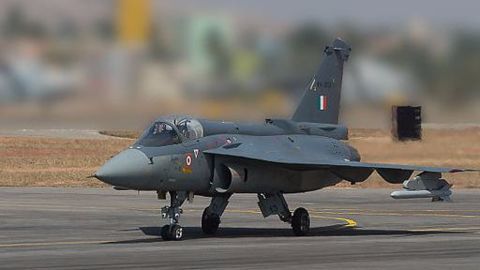 33 years after the project was first sanctioned, the much-delayed Tejas will finally be inducted into the IAF.
Its first squadron 'Flying Daggers 45' will be raised with two Tejas aircraft on 1 July.
The first Tejas squadron with 20 jets, will be fully in place only by 2018.
Tejas will feature in combat role of the IAF next year.
In context:
Tejas all set to fly after three-decade-long wait
About

What is the Tejas LCA?
Tejas is India's first indigenous Light Combat Aircraft (LCA). It is the smallest, multi-role, single-engine tactical fighter aircraft in the world, being developed as a single-seat fighter aircraft for the Indian Air Force (IAF).
While the idea was conceptualized in 1970s, actual work started in the 80s and Phase I of the project commenced in 1993.
The maiden flight took place in 2001.
Design and development

Tejas aircraft is jointly developed by Aeronautical Development Agency (ADA) of the Indian Department of Defense and Hindustan Aeronautics Limited (HAL) as the prime industrial contractor.
Love India news?


Stay updated with the latest happenings.
20 Dec 2013

Tejas gets initial operational clearance
Tejas LCA received its initial operational clearance (IOC II), a step closer to its induction into IAF squadron.
LCA programme, initiated in 1983 to replace the ageing MiG-21s, faced several delays over the years.
With IOC II, Tejas can be flown by IAF pilots for officially undertaking flight evaluation trials.
It however has to cross several milestones before receiving the Final Operational Clearance (FOC).
17 Jan 2015

First Tejas handed over to IAF
The first Tejas LCA was handed over to the IAF by Defense Minister Manohar Parrikar.
The handover signals the start of a process of inducting the fighters into IAF combat fleet.
This version of aircraft lacks the latest electronic warfare suite, which was introduced into LCAs recently, mid-air fuelling and long range missile capabilities, etc, which the FOC-configuration aircraft will have.
Final Operational Clearance, FOC

Final Operational Clearance (FOC) signifies that a fighter is combat-ready. FOC for Tejas is expected to come by the end of 2016 or by early 2017.
28 Jun 2016

Tejas to be in combat role by 2017
Love India news?


Stay updated with the latest happenings.
Total Cost of the Project

The entire cost of the Tejas project is pegged at Rs 55,000 crore. Each Tejas will cost Rs 270-300 crore.
28 Jun 2016

Tejas Mark-1A to be ready by 2020
The IAF will get the Tejas it really wants, Tejas Mark1-A, only by 2019-20.
The upgrade Mark1-A will have an AESA (active electronically scanned array) radar and advanced electronic warfare (EW) suite.
It will be capable of mid-air fuelling and firing advanced BVR (beyond visual range) missiles.
As of now, the available Tejas version can fire air-to-air missiles and deliver 'smart weapons'.
01 Jul 2016

IAF to induct 2 Tejas aircraft today
Two indigenously built Tejas LCA aircraft were inducted into the Indian Air Force as part of their first LCA squadron.
The new squadron, aka Squadron 45 'Flying Daggers' will get the remaining 18 aircraft and 4 trainer aircrafts by 2018.
Sulur in Tamil Nadu has been chosen as the LCA base.
The final operational clearance for the aircraft is expected by 2016 end.
04 Jan 2017

One more single engine fighter to be made in India
Defence Minister Manohar Parrikar on Tuesday said that another single engine fighter aircraft will be selected by India for manufacturing under the 'Make in India' initiative.
This brings down the competition to F-16 by Lockheed Martin and Gripen by Saab.
This choice also puts away double engine aircrafts like F/A 18 by Boeing and Rafale by Dassault Aviation for India's multi-billion deal for fighters.