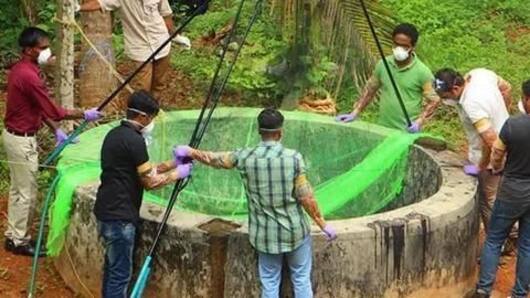 These alert doctors prevented more damage from Nipah
The Nipah virus has caused a lot of harm already. At least 13 people in Kerala have died within 10 days.
But the damage could have been much more if it wasn't for the alertness of three doctors and the state's infrastructure, peers said.
If it had happened in other states like UP, "the situation would have been bleak," a health officer said.
Here's their story.
A doctor saw unusual symptoms in an 'encephalitis' patient
Credits:
Critical care specialist Dr AS Anoop Kumar was on his regular round at Kozhikode's Baby Memorial Hospital on May 17, when he noticed unusual symptoms in an 'encephalitis' patient.
Generally, acute encephalitis patients display lower blood pressure and heartbeat.
But Mohammed Saliah had increased blood pressure and an alarmingly swinging pulse.
Kumar immediately informed two colleagues, Dr Ajith K Gopan and Dr Ganga Prasad.
Doctors immediately took necessary precautions
All three agreed Saliah's symptoms were strange, and so started observing him closely. When they saw he was slipping into a coma, they rushed him to the critical care unit and segregated him from other patients.
They then summoned his attendants, who told them Saliah's brother had died of similar symptoms two days ago, Kumar said.
That night, Saliah died too.
Love India news?
Stay updated with the latest happenings.
Yes, notify me
Soon, an alert was sounded
The doctors quickly contacted Dr G Arun Kumar of the Manipal Centre for Viral Research and rushed Saliah's blood and fluid samples to him.
Arun Kumar confirmed their fears the very next day, and they alerted state health officials.
But the government officially declared the news only on May 20, after confirmation from the National Institute of Virology in Pune.
Several deaths in the next few days
In the next days, Saliah's father Valachekutti Moosa died from the same disease after suffering for over three weeks. His younger brother Mohammed Sadiq and aunt Mariumma also succumbed. Nurse Lini, who was treating them, was killed. Saliah's fiancé is in hospital with similar symptoms.
The three doctors along with Arun Kumar will be felicitated
The government confirmed these people died of Nipah. The National Institute of Virology traced the source of the outbreak to bats living in Saliah's household.
However, unconvinced experts are investigating whether it was a case of human-to-human transmission instead.
A health official said the three doctors along with Arun Kumar, who has been camping in Kozhikode since then, will be felicitated.