India
Mizoram celebrates Peace Accord Day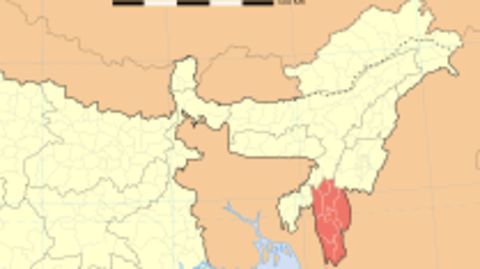 The signing of the 1986 Mizo Peace Accord was celebrated all across the state today.
The Mizoram government sanctioned Rs 26 lakhs for the celebrations of the Peace Accord Day, also known as 'Remna Ni', in all 8 districts of Mizoram.
The resolution to celebrate the accord day was taken at the 70th Young Mizo Association general conference in Oct 2015.
In context:
All about Mizoram Peace Accord
Mautam Famine

Backdrop to insurgency - Mautam Famine
In 1959, Mizoram was devastated by 'Mautam Famine'. The famine was caused by bamboo flowering which resulted in an increase in rat population that caused a havoc.
The request of Mizo District Council, then under the administrative and geographical control of Assam state government, was turned down by Assam.
The request was for a sum of Rs 150,000 to alleviate the effects of famine.
The famine, subsequent destruction and unrest gave rise to Mautam Front (formed in 1955 as Mizo Cultural Society) in March 1960.
It took active lead in demanding relief and gained considerable popularity among Mizo people.
It adopted the name Mizo National Famine Front (MNNF) in September 1960 and turned into a new political organization 'Mizo National Front' (MNF) in 1961.
Love India news?


Stay updated with the latest happenings.
MNF leadership

Mizo National Front (MNF) was lead by Laldenga with the goal of achieving sovereign independence for Greater Mizoram.
Operation Jericho

Operation Jericho - MNF vs Indian govt.
On 28 February 1966, MNF launched 'Operation Jericho' to throw out Indian forces from Mizoram with simultaneous attacks on Assam rifles garrisons in Aizawl and Lunglei.
The next day MNF declared independence from India.
On 5 March, Indian government under Indira Gandhi responded with air-strikes on Aizawl.
The attacks continued till 13 March when rebels were forced to retreat to the jungles.
1967-1972

Developments from 1967-1972
MNF was outlawed in 1967 and the demand for Mizoram's statehood increased.
Mizo District Council delegation submitted its demands for statehood to PM Indira Gandhi in July 1971.
The Indian government offered to turn Mizo hills into a Union Territory.
In January 1972, Mizoram became a Union Territory and was allotted two seats in Parliament, one each in Lok Sabha and Rajya Sabha.
Peace Accord

Mizo PeaceAccord 1986
Rajiv Gandhi's ascension to power as PM after Indira's death in 1984 thawed the relations between Mizo fighters and Center.
After years of uprising, MNF conceded to work within Indian constitution and renounce violence.
Mizo Peace Accord was signed on 30 June 1986 by Laldenga on behalf of MNF, and Union Home Secretary RD Pradhan on government's behalf and Chief Secretary of Mizoram Lalkhama.
Love India news?


Stay updated with the latest happenings.
Laldenga becomes CM

As part of the Accord deal, Laldenga became the interim Chief Minister of Mizoram and went on to win the first Mizoram Legislative Assembly election after statehood in 1987. He continued as CM for a year before his government was toppled.
Statehood

Birth of Mizoram state
Statehood was a prerequisite for the implementation of the Mizo Peace Accord between MNF (Mizo National Front) and the Union government.
After the signing of the peace accord, a constitutional amendment bill to confer statehood on Mizoram was passed in Lok Sabha, in August 1986.
Mizoram consequently, became a full-fledged state of India on 20 Feb 1987.
30 Jun 2016

Mizoram celebrates Peace Accord Day