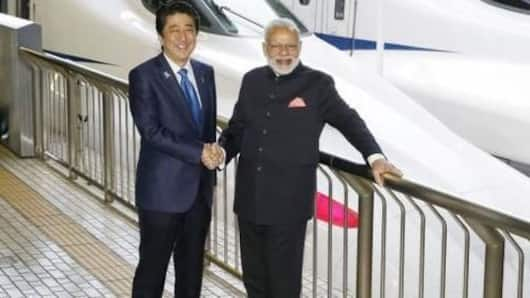 Ambitious bullet train project lands in trouble: Details here
The ambitious Mumbai-Ahmedabad bullet train project has run into trouble as people in more than 70 tribal villages in Palghar, Maharashtra, have refused to give up their lands.
For the project, that costs approximately Rs. 98,000 crore, the Indian Railways is acquiring 1,400 hectares of land in Maharashtra and Gujarat at Rs. 10,000 crore. Around 110 km of the corridor passes through Palghar district.
Here's more.
200 hectares of land stalling project, reveals official
The genesis of the problem is 200 hectares of land.
"Tribal villages are averse to any kind of development. Local politics is playing out even in case of the project which has so much national importance," a senior official told ET.
He added the government was giving five times rate as compensation to villagers. He was hopeful an agreement could be reached soon.
Official reveals villagers even manhandle railway employees
"Out of these 73 villages, 50 could agree soon as the dialogue with them is on. The main problem is the remaining 23 villages which don't want any kind of engagement with railways. They even manhandle our officials during surveys," said the official.
Love India news?
Stay updated with the latest happenings.
Yes, notify me
Time is running out: Will Railways meet the deadline?
For India's first bullet train, Japanese International Cooperation Agency (JICA) gave a soft loan of Rs. 88,000 crore for 50 years at an annual rate of 0.1%.
The process of land acquisition was planned to be wrapped up by 2018 end, for work to begin by January 2019. The train, connecting Maharashtra and Gujarat's capitals, is supposed to be constructed by August 2022.
Is this happening right in the country?
Asked 2018-06-02 17:25:57 by dutt kakkad
Answered by NewsBytes
In my opinion, selling your lot means a lot to some people, especially for people in villages. It is all that they have for sustainment. Of course, the government offers them adequate compensation for the same but you cannot force anyone to sell their land. But manhandling of government employees is not the right thing to do.