#StayInLove: 5 websites where you can find couple-friendly hotels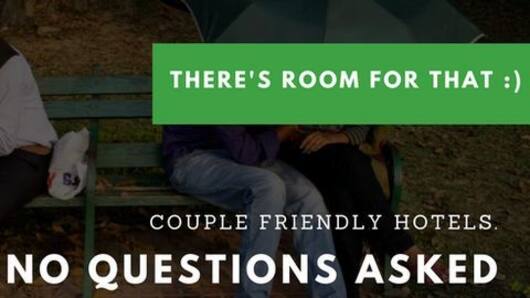 All the moral and actual policing might make you think that staying in a hotel room in India is illegal, if you are unmarried.
But there is not a single law in India that says unmarried couples are not allowed to stay or book a hotel room together.
Fortunately, there are many websites that understand a couple's need for privacy and provide couple-friendly hotels.
In context
Five websites where you can find couple-friendly hotels
Let's talk legal
In reality, refusing to let out a hotel room to someone on the basis of their marital status, is a violation of fundamental right. Even the Supreme Court of India has said that it is legal for unmarried couples to stay together.
StayUncle
Couples need a room, not a judgment
Delhi-based start-up, StayUncle is pioneer in more ways than one. It has tied-up with hotels around the country to provide hassle-free stay for unmarried couples, it now has presence in 40+ cities.
StayUncle even lets the couples book a room in half-day slots. Interestingly, some of its hotels also allow same-sex couples.
Known for their creative marketing gimmicks, their tagline - "Couples need a room, not a judgment" says it all.
Love India news?
Stay updated with the latest happenings.
Notify Me
OYO
#CouplesNeedSpace
OYO needs no introduction; notably in 2016 they had added the option for unmarried couples to book an OYO.
For that, simply select "OYO Welcomes Couples" in the filters while searching for a hotel in any city.
Alternatively, you can also activate the 'Relationship Mode' on the OYO App.
OYO claims to have couple-friendly hotels in 100+ cities across India.
LuvStay
Stay with your love, silently and privately
LuvStay helps you to rent safe and secure hotel rooms for unmarried/married couples for a relatively shorter stay.
LuvStay offers the freedom of flexible timings by letting one book either in 24-hr or 12-hr slots (available in day and night slots).
It also provides special facility for couples like delivering cakes, chocolates, gifts etc. Further, it accepts local IDs too.
BreviStay
#CouplesNeedPrivacy
At BreviStay, you can find couple-friendly hotels for 'micro-stay'.
The users can easily filter the hotels which welcome unmarried couples by checking the couple stickers on the listed hotels.
BreviStay allows one to check-in in hourly packs of 3 hours, 6 hours and 12 hours.
Couple-friendly hotels on BreviStay are available across 11 cities in India.
MiStay
Book hotel rooms by pack of hours
MiStay, over a period of time, has developed a network of couple-friendly hotels. It is currently functional in about 40 cities.
MiStay offers three different slots for couples to rent: 8-11 am, 12-7 pm, and 8pm to 7am.
The company was founded by IIT-Madras alumni Pranav and Sandeep, in n April 2016.
Even business travelers can avail their services.