India
Vijay Mallya to come out in the Public Eye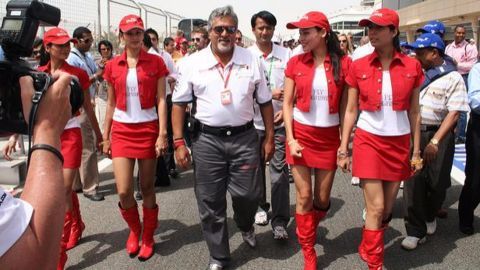 Vijay Mallya will attend a press conference of team bosses in U.K. just before the Formula 1 British Grand Prix.
Along with the Force India boss, fellow team principals Maurizio Arrivabene (Ferrari), Eric Boullier (McLaren), Dave Ryan (Manor), Claire Williams (Williams) and Toto Wolff (Mercedes) will also be present.
Vijay Mallya is accused of being a 'proclaimed offender' by a special court in India.
In context:
The controversies surrounding Vijay Mallya
The British Grand Prix

The British Grand Prix is a race in the calendar of the FIA Formula One World Championship. It's held at the Silverstone circuit near the village of Silverstone in Northamptonshire in England.
Introduction

Sahara Force India and Mallya
The Sahara Force India F1 Team is a Formula One racing team. It is based in Silverstone, United Kingdom and holds an Indian license.
Vijay Mallya and Michiel Moi bought the Spyker F1 team for €90 million in 2007, and Force India was formed.
Vijay Mallya will be spotted on the racetrack for the first time since the start of the season.
Love India news?


Stay updated with the latest happenings.
08 Jul 2016

Vijay Mallya to come out in the Public Eye
Airlines

The fall of Kingfisher Airlines
Established in 2005, Kingfisher Airlines was launched by Vijay Mallya.
As of October 2013, its employees remained unpaid for a period of 15 months, the licence to operate as an airline was lost and faced a $1 billion debt from bank loans.
The Kingfisher collapse labelled Vijay Mallya as a willfull defaulter under the Indian law including accusations of money laundering, misappropriation, etc.
United Spirits

Vijay Mallya's exit from USL
United Spirits Limited is India's largest liquor company falling under United Breweries (UB Group), formerly under the chairmanship of Vijay Mallya.
After Kingfisher Airlines (also under UB Group) hit rock bottom, Mallya sold 53% of his USL shares to UK-based alcohol manufacturer Diageo.
Mallya, held responsible for losses worth Rs.7,200 crore in a USL internal probe, stepped down as chairman and non-executive director after a year-long boardroom battle.
08 Mar 2016

Vijay Mallya's retreat from the country
A consortium of 17 banks filed a petition in the Supreme Court to stop Vijay Mallya from leaving the country, but as per media reports, he had already left.
According to the petition, Vijay Mallya owed Rs.7,000 crore to these banks.
He also faces allegations of having transferred Rs.4,000 crores to tax havens.
Mallya claimed he went to Britain, wanting to stay closer to his children.
Love India news?


Stay updated with the latest happenings.
Mallya and Indian envoy seen at the same event

Vijay Mallya was last seen at a book launch on 18 June and was attended by the Indian High Commissioner Navtej Sarna too and caused flutters back home.
09 Jul 2016

Vijay Mallya makes rare public appearance ahead of F1 race
Vijay Mallya made a rare public appearance on the Silverstone F1 track.
He admitted his inability to travel due to his Indian passport being revoked was "frustrating", but added that "life must go on".
Although Mallya has been summoned by the Enforcement Directorate to appear before a special PMLA court on July 29, Mallya is reluctant to return "unless assured of a fair trial".