Chhattisgarh: PM Modi to inaugurate expanded Bhilai steel plant tomorrow
India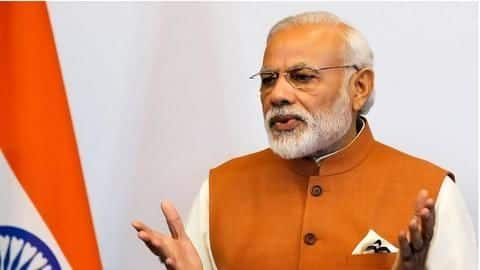 Prime Minister Narendra Modi will be on a one-day visit to Chhattisgarh tomorrow where he will dedicate the modernized and expanded Bhilai steel plant to the nation.
He will also take part in programmes in Naya Raipur - the upcoming capital city of Chhattisgarh.
This will be Modi's second visit to the poll-bound state in the last two months.
Inaugurations
Modi will lay foundation stone of new building of IIT-Bhilai
The Prime Minister will inaugurate Integrated Command and Control Center at Naya Raipur. Thereafter, in Bhilai, he will inaugurate Raipur-Jagdalpur air service.
He will also lay the foundation stone for the new building of IIT Bhilai, besides dedicating to the nation the expanded and modernized Bhilai Steel Plant (BSP) of SAIL.
Modi will also address a public meeting at Jayanti Stadium in Bhilai.
Command and Control Center
Command and Control Center will monitor complete Naya Raipur
Through the Command and Control Center, water supply, power supply, sanitation, traffic movement, integrated building management, city connectivity, and Internet infrastructure (data center) and monitoring of complete Naya Raipur will be carried out, a government official said.
He added that the Command and Control Centre will be managed through GIS platform, where the residents can register their complaints regarding service dysfunction through helpline numbers.
Laptop distribution
Modi will distribute laptops to five students
Modi will inaugurate air connectivity between Raipur and Jagdalpur under the Center's "Udaan" scheme.
On the occasion, the PM will distribute laptops under Suchna Kranti Yojana scheme to five students apart from distribution of citations, cheques, and materials to select beneficiaries under Pradhan Mantri Matri Vandana Yojana, Standup India and Mudra Yojana, Pradhan Mantri Ujjawala Scheme, and Mukhya Mantri Aabadi Patta Vitaran Yojana.
Quote
Bastar will now be on India's aviation map
"With the launch of this air-connectivity, Bastar will be put into the country's aviation map," the official said.
Half-day visit
PM will leave for New Delhi at 2:25 pm
The PM will arrive at Swami Vivekananda Airport in Raipur by a special aircraft of Indian Air Force at 10:40 am tomorrow.
He will return to leave for New Delhi by a special IAF plane at 2:25 pm.
Modi's visit assumes significance for the BJP which is eyeing to retain power for the fourth consecutive term in the Assembly polls in the state.