Jharkhand: Two men attacked by mob for allegedly stealing buffaloes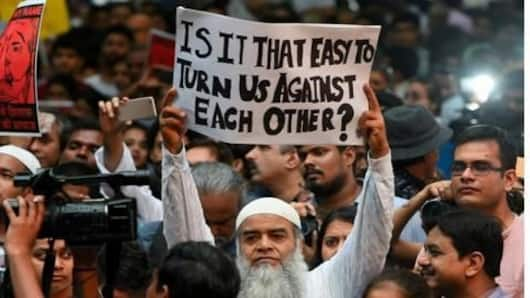 An angry mob attacked two Muslim men on suspicion of cattle theft in Jharkhand's Godda district on Wednesday morning.
The two victims identified as Charku Ansari and Murtaza Ansari, were accused by locals for allegedly stealing 13 buffaloes from one Munshi Murmu.
The Jharkhand police have arrested four people for lynching but three cattle thieves managed to flee.
In context
Jharkhand: Two men lynched on suspicion of cattle-theft
The incident
Angry mob attacked victims with bows and arrows
Reportedly, five people went to Dhulu village to steal buffaloes. On entering nearby Bankatti village, they were caught by villagers.
The angry mob then attacked them with bows and arrows. While three managed to escape, the victims lost their lives.
"There is resentment among villagers about cattle thefts in the area," said Godda MLA Pradeep Yadav of JMM. He added he was collecting reports.
The action
Police arrest four, register case of murder
Munshi Murmu, Kaleshwar Soren, Kishan Tudu and Harjohan Kisku have been arrested by the police.
"We have registered two cases - one pertaining to the murder, and the other for stealing buffaloes," Godda Superintendent of Police Rajiv Ranjan Singh said.
The bodies of victims were handed to their families after post-mortem and heavy security was deployed in the area as a precautionary measure.
Love India news?
Stay updated with the latest happenings.
Notify Me
Earlier, one of the deceased had gone to prison
"It has come to light that Charku Ansari had gone to jail in a property offense. One of Murtaza's brother was also sent to jail in a dacoity case recently. Further antecedents are being verified," revealed Rajiv Ranjan Singh.
Looking back
Mob lynching has sadly become normal in Jharkhand
Before this incident, two cattle traders were lynched and their bodies hanged in Latehar in March 2016.
In June 2017, a cattle trader was lynched in Ramgarh by 'gau rakshaks'. In this case, 11 including, a BJP leader, were convicted and given life sentences.
President of Jharkhand Congress Dr Ajoy Kumar tweeted incidents of mob lynching were shameful and they should be stopped.
No humanity left, tweets Ajoy Kumar after lynching incident
When will this mob lynching stop? No humanity left. These days we are living in a society which has become immune to these incidents? Environment of hatred..... Disgustingly shameful

— Dr Ajoy Kumar (@drajoykumar) June 14, 2018