Air quality in Delhi remains beyond 'severe' for third day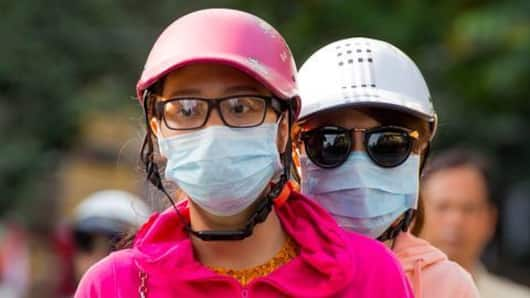 The air quality in Delhi remained beyond the "severe" level for the third-day with the PM10 level beyond 796 in Delhi-NCR and 830 in Delhi, particularly.
Dusty conditions are likely to prevail for another 3-4 days; authorities advised people to avoid staying outdoors for long hours.
Air quality deteriorated because of dust-storms in western India, particularly Rajasthan, which increased coarser particles in the air.
In context
Air Quality in Delhi remains beyond 'severe'
Air quality index
What does the air quality index reveal?
The air quality index (AQI) - a measurement of the concentration of toxic particulate matter in the air - at several places in Delhi remained beyond 500-mark, with east Delhi's Anand Vihar area recording a PM10 level of 929 and PM2.5 level of 301 this morning.
AQI between 0-50 is considered "Good", 51-100 "Satisfactory", 101-200 "Moderate", 201-300 "Poor", 301-400 "Very Poor", and 401-500 "Severe".
Dust Particles
Wind blowing contributed to the spread of dust particles
The wind blowing in the region has contributed to the spread of dust particles.
According to the Meteorological department, wind speed reaching up to 35kmph is predicted for today. The dust-laden winds have created a haze in Delhi-NCR since yesterday.
The Environment Ministry has already alerted construction agencies, municipal corporations, and Delhi Pollution Control Committee to ensure water sprinkling.
Love India news?
Stay updated with the latest happenings.
Notify Me
Hazardous
High pollution levels caused mainly by coarse particles
CPCB said pollution this summer is very different from last year.
In Nov'17, PM2.5 and PM10 spiked, posing serious health hazards to residents.
However, the increase in pollution levels now is mainly due to a drastic increase in coarse particles in the air.
This time, PM2.5, ultra-fine particles that may reach lungs and affect its functioning, is not as high as that of November.
People can witness discomfort in breathing
"There could be discomfort or breathing difficulties due to the pollution," A Sudhakar, CPCB member-secretary said, adding that they have also called a meeting of construction companies and if the beyond "severe" condition persists they would stop the construction activities.