Delhi chokes as air-quality cross 'emergency'-levels, no respite till weekend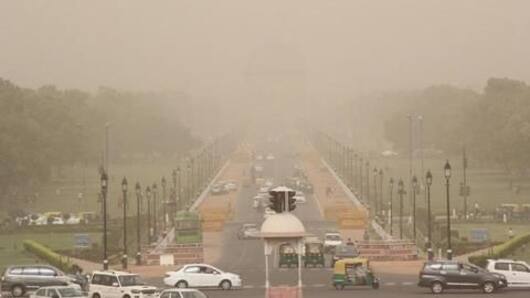 Delhi is once again covered by a thick haze, a grim reminder of the recurrent crisis the capital generally sees during winters.
PM10 levels shot up to 929ug/m3 today, more than 400ug/m3 above 'emergency' or 'severe' limits.
Experts have blamed the situation on strong winds bringing dust from the West Asian deserts, which they say are likely to continue till rains arrive Sunday.
In context
Once again, Delhi chokes
Status
PM-levels have shot well beyond 'severe' levels in several areas
PM10 ('particulate matter 10') refers to inhalable particles with diameters of 10 micrometers or less.
Anand Vihar saw PM10 levels of 929ug/m3 this morning; the permissible limit is 100ug/m3, and anything above 500ug/m3 is 'emergency.'
PM2.5 levels also reached 211ug/m3; the permissible limit is 60ug/m3, and 250ug/m3 is 'emergency.'
At several places, air quality index (AQI) Delhi crossed the 'severe' limit of 500.
Love India news?
Stay updated with the latest happenings.
Notify Me
Factors
Winds from the west combined with heat aren't helping
Weathermen have blamed strong winds and ground-level dust storms in western India, which has brought coarser air particles into the capital.
The condition has been worsened due to the heat, which is being trapped by the dust in the air.
"Such strong winds are expected to continue till Friday night. There are chances of rain on June 17," said RK Jenamani, Aviation Meteorology Services, Delhi.
Impact
Pollution affecting Delhi more deeply than one would think
According to latest WHO data, 14 Indian cities feature in the world's 20 most polluted cities; Delhi was at sixth.
This has alarming effects: regularly inhaling particulate matter containing harmful trace elements means that lung cancer mortality risk in children living near Delhi's main roads is "13-16 times" more than safe limits.
Pollution is also corroding metro infrastructure, especially stations situated near open drains.
Measures
Authorities are stepping up, but very slowly
The Environment Pollution panel has now urged all NCR states, municipal corporations and construction agencies to sprinkle water on streets to bring down the dust.
Earlier, the government banned sale of diesel vehicles and restricted construction activities.
The SC has asked the Center to start the National Clean Air Program (NCAP) with the capital.
In March, the Delhi government presented its first 'Green Budget.'
If you wish to know your area's air quality
On the official DPCC website (www.dpccairdata.com), you have a map of Delhi with green concentric circles representing monitoring stations. Zoom in to find your locality, then click on the nearest circle. The next page will show you the latest air particle levels in the area.