After Shimla's acute water shortage, experts believe Uttarakhand is next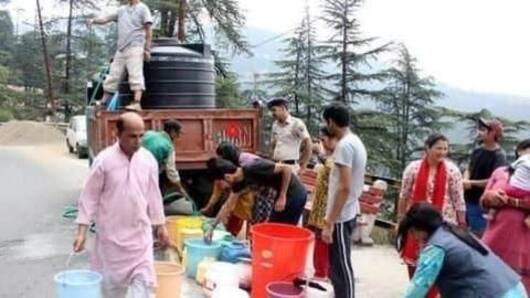 Shimla is still reeling under acute scarcity of water.
Some schools have declared holidays owing to shortages, price of water tankers have doubled to Rs. 4,000, and there have been reports of fighting over water.
Now, experts believe that Shimla is just the start, and that all hill stations in Uttarakhand are staring down at the same fate.
Here's what is going on.
In context
Uttarakhand is next after Shimla, say experts
Overview
First tourist spots, then other areas will face water crisis
H P Uniyal, the former chief general manager of the Uttarakhand Water Works department, and current advisor the State Planning Commission, believes that tourist spots in Uttarakhand will soon suffer fates like Shimla, if immediate steps aren't taken to conserve rainwater.
Uniyal is also of the opinion that urban, peri-urban, and some rural areas will follow suit soon.
Poor conservation
The main reason behind Uttarakhand's impending water crisis
The primary reason for the impending water crisis is lack of proper rainwater conservation and the consequent runoff.
In the absence of conservation, most of the rainwater in the region goes as runoff, and thus doesn't percolate into subterranean aquifers.
Consequently, groundwater doesn't get recharged, and natural springs and spring-fed rivers start drying up - there's plenty of evidence for this.
Love India news?
Stay updated with the latest happenings.
Notify Me
Uttarakhand hadn't foreseen the groundwater depletion
In 2005, 2,800 spring-fed water supply schemes had been set up in Uttarkhand anticipating a population boom. However, what they hadn't accounted for was depleting ground water levels. Consequently, today there's a massive shortfall in water supply in across 10,000 gravity and pumping schemes in Uttarakhand.
Evidence
Survey found evidence of depleting water supply
For instance, a recent state-wide survey on water sanitation found that in the district of Pauri alone, potable water supply from most gravity and pumping schemes had fallen by a massive 25% since 2005.
This decline is owing to receding water levels in groundwater-fed natural springs, and this phenomenon is happening in different intensities across Uttarakhand.
Nainital is also facing hard times
Popular destination Nanital is also seeing hard times. The iconic Naini Lake - the only source of water in the hill station - is slowly drying up, along with its recharge source which is another lake up the hill, mostly owing to a construction boom.
Water wastage
80% of water supplied is wasted in washing, gardening etc.
Another major factor behind the impending water crisis is the unbridled use of potted water.
According to Uniyal, 80% of the government's sanctioned 135 litres of water per capita is wasted on activities like washing, gardening, flushing toilets etc. in Uttarakhand.
Additional pressure on water resources is exerted by indiscriminate felling of trees, unplanned and illegal constructions.
Countermeasures
What the state is doing to avert the crisis
Uniyal has suggested measures to the state government to improve efforts to avert a water crisis.
These include guidelines on checking water wastage and augmenting rainwater conservation through methods like rooftop rainwater harvesting which would enable households to have their own water supply for daily usage activities like washing, flushing toilets etc.
Meanwhile, efforts are also on to augment natural springs.