Agra: Social media users express anger after dog buried alive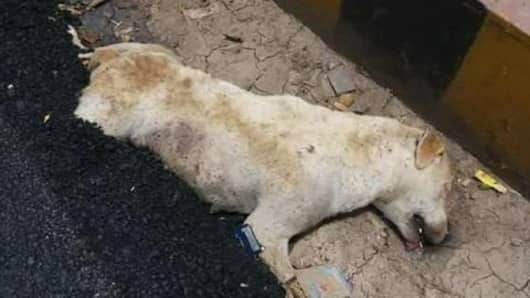 In what is sure to make every human furious, a dog was buried during a road construction in Agra. Videos and pictures that have gone viral on social media show the dog's body buried under tar.
The barbarity made users and activists extremely angry, and rightly so.
Agra's Sadar police department registered an FIR on Wednesday after the barrage of angry reactions.
In context
Dog buried alive in Agra, people are furious
Humanity's death
First hot tar was poured, then road roller crushed animal
Social activist Naresh Paras said, "A fresh layer of coal tar was being laid on road from Phool Sayyed crossing towards Circuit House and the Taj Mahal."
The dog was sleeping on the side of the road, but men at work decided not to wake it up and instead poured hot tar over the animal.
If this wasn't enough, a road roller crushed the dog later.
"Punish the guilty"
Agra residents demand action against 'dog-killers'
The photograph of atrocity found its way on social media on Wednesday. Many Agra residents took to Sadar police station demanding action against 'dog-killers'.
A case under Prevention of Cruelty to Animals Act was registered. The project's contractor promised severe punishment to those behind the action.
Social media users also targeted the authorities for their negligence and display of inhumanity.
Love India news?
Stay updated with the latest happenings.
Notify Me
The reactions
Netizens vent anger, call it despicable
A Twitter user @yogesh_agra wrote: Shameful act in Agra. Picture reveals negligence of those who did this. Must be punished for killing innocent dog.
Social activist Anand Rai called it "Height of cruelty", while Facebook user Anuradha Sharma said she was "speechless."
Another user Saloni Rana lamented: "What else these insensitive people can do. Should be criticised and punished... where's the world going!!"
A Congress member demanded answers from Yogi Adityanath
They poured 'Hot Damar' over a sleeping dog in Agra; and that poor died not able to bear the pain. Animal love is also a facade of Ajay Bisht.

Yogi ji we can see that you didn't give up the 'Maya(माया)' but definitely the 'Moh(मोह)' of the living! @PetaIndia pic.twitter.com/2fItpLo9AK

— PrashantPratap Singh (@iPrashantSingh) June 13, 2018