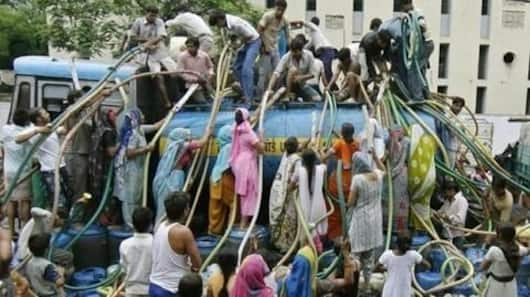 In Delhi's Sangam Vihar, fight over water claims another life
As more cities race towards a water crisis, this basic necessity is fast becoming a trigger for crime.
Sangam Vihar in Delhi is testament.
In this water-starved locality, many gangs have started their journey into crime by first controlling water, eventually moving into extortion, kidnappings, even murders.
Water is so priceless here that it was paid for by a human life three days ago.
What happened on Thursday?
Thursday, Kishan Bhadana, brother of CR Park councilor Suresh Bhadana, was engrossed in laying a water connection to their house in Sangam Vihar, one of India's largest unauthorized colonies, which houses 15L people and severely lacks pipelines.
But neighbors Babli and his father Rampat objected to the pipeline being laid in front of their house.
Soon, an argument broke out, but it was briefly sorted.
For laying a pipeline, Kishan paid with his life
Later the same night, when Kishan, a property dealer, arrived home from office, Babli, Rampat and three others of their family approached him.
An argument started again. During the scuffle, Babli drew his pistol and fired.
Kishan and one of his sons got hit. While Kishan died, the latter escaped with injuries.
All this happened in full public view, his wife later said.
Love India news?
Stay updated with the latest happenings.
Yes, notify me
At least 10-12 people have died in fights over water
Unlike this one-off incident, local gangs have feuded with each other over water for years. More than 10-12 people have been killed in six years in a fight between the "Madrassi gang" and other rival groups, police say.
The area has given "big names" like gangsters Deepak Pandit, Ravi Gangwal and Rohit Chaudhary, said an officer, and controlling water is just the first step.
The top gangleader has been to jail for 100 crimes
"Controlling water is only a way of asserting supremacy. These gangs run extortion rackets and are involved in robberies," another officer explained.
Sangam Vihar is also home to the infamous Basiran, the 62-year-old ringleader of one of Delhi's most notorious crime syndicates, who along with her seven sons have been jailed for over 100 crimes.
Till recently, Basiran's family controlled three government borewells.
So what are the authorities up to?
Authorities are working to check the situation. Police say they are continuously monitoring gangs' movements.
Sangam Vihar MLA Dinesh Mohaniya said the Delhi Jal Board has already sought permission from the forest department for laying pipelines, as the area falls under the ridge.
In Kishan's murder, five of Babli's kin, including Rampat, have been nabbed. Babli would be arrested once he's discharged from hospital.