India
Wing Commander Pooja Thakur sues IAF for denying Permanent Commission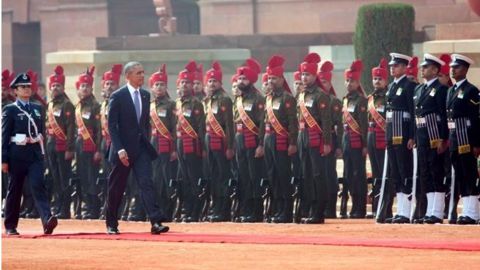 Officer Pooja Thakur went to the Armed Forces Tribunal after being denied full service.
In her petition she stated that the IAF's decision to refuse her permanent commission was "biased, discriminatory, arbitrary and unreasonable".
Her lawyer Sudhanshu Pandey said it was "not a gender issue" but a procedural one.
The tribunal has admitted the case and asked IAF to respond in four weeks.
In context:
Wing Commander Pooja Thakur takes IAF to court
Permanent Commission and Short Service Commission differentiated

In Permanent Commission, officers get a chance to rise to the rank of Lieutenant General and retire at age 60 with full benefits. Whereas in Short Service Commission, officers are required to serve for a maximum of 14 years and retire without benefits.
Information

Who is Pooja Thakur?
Wing Commander Pooja Thakur, who hails from Rajasthan has served in Indian Air Forces for more than 14 years. She is an administrative officer and is posted in its publicity cell DISHA at Delhi.
She was the first woman officer to lead the Inter-Service Guard of Honour for Barack Obama at Rashtrapati Bhawan in 2015.
She is currently undergoing pre-release course at MDI Gurgaon.
Love India news?


Stay updated with the latest happenings.
15 Jul 2016

Wing Commander Pooja Thakur sues IAF for denying Permanent Commission
15 Jul 2016

IAF's response
IAF said that Thakur was offered permanent commission in 2012, which she declined citing personal reasons and policy states that it can be offered only once.
Former Wing Commander Prafful Bakshi stated that it is not a "rozgar yojna" and an officer is selected through a selection panel which comprises of multiple yardsticks. Hence, there is no question of gender discrimination in this case.
15 Jul 2016

What Thakur's lawyer has to say
According to Thakur's lawyer, there is a gap in policy HRP3 of 2011 which states that women should show willingness when offered Permanent Commission as they won't be given a second chance. However, there is no such rule for male officers.
He also said that the Government can decide for officers who have served the nation and is hopeful of a favourable judgement.
Women in Indian Armed Forces

Women pilots were first included in 1991, for choppers and transport air crafts. The first batch of three women fighter pilots, was inducted on 18 June but combat roles in the Army and the Navy are still off-limits due to operational concerns and logistical constraints.