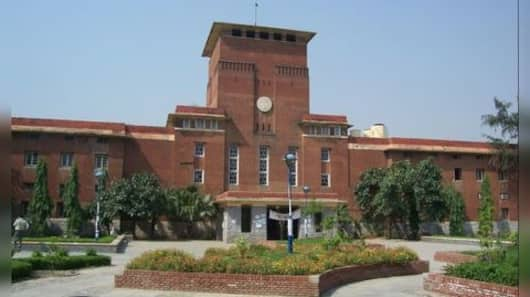 DU second cut-off list: What to expect
The Delhi University (DU) is expected to announce its second cut-off list for merit-based admissions for undergraduate courses by Sunday night.
It's expected that the list will see cut-offs decrease by 0.25 to 3 percentage points, now that 25% of seats for various courses have already been filled.
Additionally, dips in cut-offs will possibly be more for less popular courses.
Here's what to expect.
Admission under the second list will close on June 27
Admissions based on the second cut-off list will take place from June 25 till June 27. Beyond that, even eligible candidates won't be considered. Admission timings are 9:30 am to 1:30 pm.
SRCC and KMC have already released their second cut-off lists
Meanwhile, Shri Ram College of Commerce (SRCC) has already released the second cut-off list for two subjects. The general category cut-off for B.Com (Hons) has been set to 97.375% from the earlier 97.75%, while the new Economics (Hons) cut-off is 98.25%, down from the earlier 98.50%.
Kirori Mal College (KMC) has also released the second cut-off for all its courses.
Love India news?
Stay updated with the latest happenings.
Yes, notify Me
What to expect from other DU colleges
Based on inputs from the college officials, here's what to expect from others.
Hansraj College's second cut-off list is expected to see a dip between 0.25-1% based on popularity of subjects.
Keshav Mahavidyalaya's cut-off for B.Com (Hons) is expected to see a 0.50% dip, while courses at Swami Shraddhanand College, Shaheed Bhagat Singh College (Evening), and Kalindi College for Women will see dips of 2-3%.
DU will release only five cut-off lists this year
This year, DU will release only five cut-off lists, and if there are vacant seats even after that, it will conduct a centralized counselling to fill the vacancies. The first cut-off list was released on June 18, and the third is expected on June 30.
What if the cutoff is one mark less than the marks of the candidate?
Asked 2018-06-25 06:33:51 by Nisam Subba
Answered by NewsBytes
To be eligible for admission in a particular course and college under DU, you have to qualify its cut-off. So, you if your marks are even one less then you won't be able to qualify the cut-off and won't be able to admission in that particular course or college.