No probe will be ordered into 'exchange-of-currency' in Ahmedabad-bank: Sinha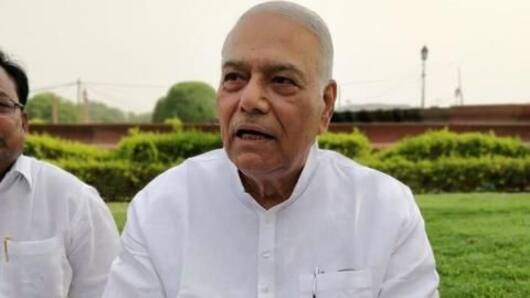 Former BJP leader Yashwant Sinha yesterday said the government wouldn't order any probe into reports of exchange of currency notes worth Rs. 745.58cr at Ahmedabad District Cooperative Bank within five days of the announcement of demonetization on November 8, 2016.
BJP president Amit Shah is serving as a director in the bank.
Sinha was addressing AAP's Jan Adhikar Rally in Varanasi through the phone.
In context
Ahmedabad bank 'exchange-of-currency': Govt will not order probe
Undeclared Emergency
There is 'undeclared emergency' in the country, says Sinha
There is an "undeclared Emergency" in the country which is more dangerous than the one declared by Indira Gandhi government in 1975, Sinha, who quit BJP in April, said.
The former Union finance minister said, "Democracy was in danger and all the government institutions and agencies like Enforcement Directorate, CBI and Income Tax department were being misused and were working on their direction."
Judiciary
Not everything well within judiciary: Sinha quotes retired SC judge
Sinha pointed out that a retired Supreme Court judge said not everything was well within the judiciary.
Yashwant Sinha couldn't attend the rally due to health issues, said BJP MP from Patna Sahib and film actor, Shatrughan Sinha, who was representing him.
Shatrughan said he was raising his voice to change the system and wasn't working against any person or rebelling against the party.
Love India news?
Stay updated with the latest happenings.
Notify Me
Cabinet Minister
Don't have ambition to become a cabinet minister: Shatrugan Sinha
Shatrugan said he doesn't have the ambition to become a minister as he already was a cabinet minister in Vajpayee government.
However, he said, "If a lawyer could become finance minister, a TV actress could directly become HRD minister, a so-called tea-seller could become the Prime Minister, then I want to know why I cannot become a minister, despite having all the good qualities."
Digital Drama
Demonetization and GST a mere 'Digital Drama', says Shatrughan
Shatrughan Sinha termed demonetization and GST a mere "Digital Drama" that had only created problems for the common man.
When people from his constituency asked him what does GST means, he replied in Bhojpuri to them that it meant "Gayil Sarkar Tohar" (your government is gone).
AAP leader Sanjay Singh criticized Modi government over issues related to employment, economy, and health.