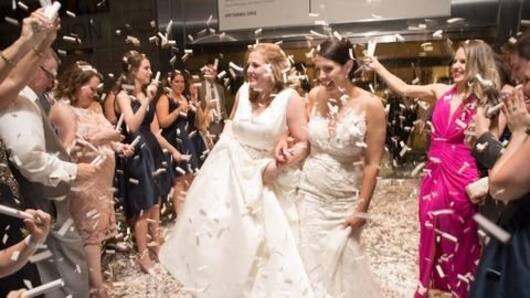 She's a match-maker, but of gays, lesbians and transgenders
When you decide to marry, more than comfort, you seek love from him/her.
In India, however, even love is a deterrent for men/women who want to marry within same sex.
That's where Arranged Gay Marriage Bureau (AGMB) comes in. Started by a 24-year-old in 2015, AGMB has helped 42 gay-couples get married till now.
That's pretty commendable, given the very many challenges.
Isolation faced by homosexuals gave her the right push
The woman who's helping the LGBTQ community take the leap of faith is Urvi Shah.
She started AGMB when she realized the isolation homosexuals face in India.
"Live-in relationships aren't accepted. That's why many gay people feel somehow left out and excluded from the mainstream by not marrying," Shah says.
She got the right push when she was pursuing her graduation in Development Studies.
Dating sites good for hookups, that's why AGMB
Her final-year project focused on transgender employment and LGBTQ rights.
That was when she "met a group of homosexuals over 30-years, who wanted to settle down but were unable to find like-minded partners," she recalled.
Dating sites like Tinder, Grindr are "only good for hookups."
Eventually, she floated the idea of starting a marriage bureau for LGBTQ, which resonated with US-based NRI, Benhur Samson.
Love India news?
Stay updated with the latest happenings.
Yes, notify Me
AGMB's tagline? A cheeky 'Get Hitched without a Hitch'
Credits:
Now a bit about Samson. He has been working in the field of medical tourism and helping gay couples have children via surrogacy. So he was an able force for Shah.
Both started the company in Chicago, giving it an apt tagline: 'Get Hitched without a Hitch'.
After her legal advisers guaranteed safety in India, Shah shifted her company's base to Secunderabad.
Minimum age to register on AGMB is 24
Over the years, AGMB has grown and now stands at approximately 2,400 subscribers, most of them being gay, but transgender form a sizable number too.
To ensure security and privacy of her subscribers, Shah personally screens every applicant.
She has kept the minimum registration age to be 24, because "anyone younger than that is rarely interested in settling down with one partner."
Shah has received threats, been stalked and abused
The main difference AGMB has from a dating site is they insist on applicants who are "looking for marriage or a long-term monogamous relationship."
Though her work gives her immense satisfaction, it's not devoid of challenges.
She has received death threats, been stalked and abused. But she's unfazed.
"There will always be opposition. I know it's part of my work," she added.
Shah's family isn't supportive, friends have deserted her
The opposition is not just from her clients' families; her family and friends aren't supportive either.
Few friends have also deserted her. But this gritty daughter of a printing press owner knows what she's doing.
One of her clients, Amar Kumar, who's now married to his sweetheart Tanmay, thanks to Shah, recalled how she helped him find "a compatible partner, husband, or best-friend forever."
Counseling parents is the most difficult task for Shah
Shah helps her clients as much as possible: right from selecting the outfit for the first date, till arranging a willing priest and counselors for the parents.
Counseling parents is the most difficult task for Shah.
"Many are worried that their kids will get into trouble by breaking the law, so we need to explain that's not true," she said.
Confusing Section 377: Punishes same-sex intercourse, but marriage not illegal
The worry stems out of the confusing Section 377 that says unnatural sex is illegal and punishable by up to 10yrs in jail.
But same-sex marriages are not illegal, just that they don't have legal ramifications in India.
Basically, people can get married, but won't get any certificate/rights.
However, Shah points out that in a culturally-conservative country, "ceremony is important as something binding".