#IndianRailways: Five rules every frequent railway traveler should know!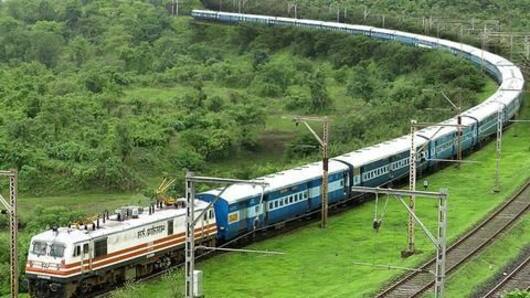 Indian Railways, which started its services 165 years ago, is considered the country's most economical mode of transportation.
Being the largest rail network in Asia, it has 115,000km of track length.
Interestingly, around 23 million passengers travel on Indian Railways daily, which is equivalent to Australia's population.
To ensure hassle-free journey, railways set up certain rules that every passenger should know.
Have a look!
In context
Five rules that every railway traveler should know!
Rule No. 1
Rule of sleeping hours for the middle berth occupant
Passengers who are allotted middle berth seats cannot keep the berth up beyond the sleeping hours that is 9 pm to 6 am. If they do so, then it's actually an offense.
Once, the sleeping hours end, the middle berth should be lowered so that co-passengers can sit comfortably.
Also, passengers of side-upper birth don't have any claim on side-lower berth during sleeping hours.
Rule No. 2
Two station rule allows you to board train from next-two-stops
If the passengers miss their train at boarding-station, they still have the chance to get the reserved seats.
As per rules, TTE isn't allowed to allocate a passenger's seat to others for at least one-hour or until the train passes the next two stops (whichever is earliest).
Once the train crosses the second station, TTE is free to assign seats to any RAC/WL passengers.
Love India news?
Stay updated with the latest happenings.
Notify Me
Rule No. 3
Extend your journey beyond deboarding station
Many passengers are compelled to book tickets to a station before their original destination, thanks to unavailability of tickets in peak season!
However, IR has a rule which allows extension of their journey.
This can be done by approaching TTE before reaching the destination. TTE will collect extra fare and issue a ticket for the forward journey.
But, you may get a different berth/seat.
Rule No. 4
Get full refund for short-terminated routes
Sometimes the train journey is short-terminated due to natural calamities/technical problems.
In such cases, if railways doesn't have a backup-arrangement, it will refund you the full fare paid for the booked journey.
However, if you aren't willing to take the alternate-train, then the fare for the traveled-section will be cut and the remaining balance will be refunded after handing over the ticket to Station-Master.
Rule No. 5
Rule of MRP on packaged food items
According to Railways Act of 1989, Indian Railway Catering and Tourism Corporation (IRCTC) authorized food vendors cannot sell packaged food items, beverages, or water bottle above the MRP.
This is an offense.
If you find anyone doing so, immediately register the complaint at railways toll-free numbers 139 or 1800111321. The vendor would be charged a hefty penalty and his license may get canceled.
Other rules
TTEs cannot disturb you after 10 pm
TTEs cannot disturb passengers after 10 pm (except in special cases). Verification of tickets must be completed before the said time.
You can complain about untidy washrooms/coaches on Cleanmycoach.com. The maintenance team will be ready at the next station to serve you.
Also, locomotive pilots don't have washrooms in engines even today. They have to ignore nature's calls in order to avoid train delays.