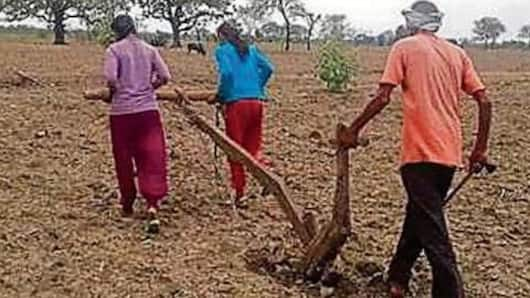 UP-family has no oxen, no tractors, so daughters plough land
Two girls- Ravina, 13, and Shivani, 10, wake up every morning to pull plough on a land as their 60-year-old father Acheylal Aharwar tills the land.
This grim scene of poverty is from Badagaon village of Maurainpur in Jhansi district.
The poor farmer can't rent a tractor or buy a pair of oxen, and hence the daughters decided to help him.
Daughters forced to work as they don't have options
Ahrawar said he had been planning to sow the land with sesame seeds. When the family learned about a good rain forecast, the daughters decided to take matters into their own hands and got to work.
"We never did such a task before," Shivani said.
A local farmer leader said the daughters were forced to work as they didn't have a choice.
The family lives in kachcha-house, wears clothes donated by villagers
A farmer leader, Shivnarain Singh Parihar, revealed Aharwar, his wife and two daughters live in a house made of mud and hatch. He has married off his other four daughters.
The poor family wears clothes donated by villagers, who also give them crops sometimes.
Ravina and Shivani study in a village school and said ploughing land put their summer vacation to good use.
Love India news?
Stay updated with the latest happenings.
Yes, notify me
Aharwar is hoping to get a Red Ration Card soon
Aharwar has a debt of Rs. 1.5 lakh which he borrowed from several people.
With his White Ration Card, his family gets 20kg of foodgrain each month.
Now he's trying to get a Red Ration Card, that will make him eligible for government housing and toilet schemes, among other things.
He submitted his application on May 15 and is awaiting a response.